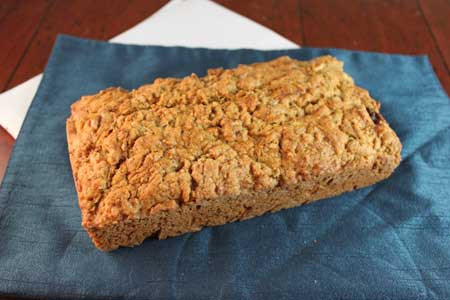 A Healthier Whole Wheat Zucchini Bread
Author: Cookie Madness
Prep time: 20 mins
Cook time: 45 mins
Total time: 1 hour 5 mins
This whole wheat zucchini bread recipe has less fat, less sugar and more fiber.
1 1/4 c. packed, finely grated, unpeeled zucchini
1 1/2 cups (6.7 oz) white whole wheat flour, fluff it up or sift it first
1/2 cup granulated sugar
1 teaspoon baking powder
1/2 teaspoon baking soda
1/4 teaspoon salt
1 teaspoon cinnamon
1/4 teaspoon cloves
1/4 teaspoon nutmeg
1 whole egg plus an extra egg white
1 teaspoon vanilla
6 generous tablespoons of vegetable oil
1/2 cup walnuts, toasted and chopped
Preheat oven to 350ºF. Spray a 9x5 inch loaf pan with flour-added baking spray.
Lay the zucchini on a stack of paper towels. Press out some of the moisture and let it stand for about 10 minutes.
In a large mixing bowl, thoroughly stir together the flour, sugar, baking powder, soda, salt, cinnamon, cloves and nutmeg.
In a medium bowl, stir together egg white, whole egg, oil, zucchini and vanilla. Add this mixture to the flour mixture, stirring to combine them well. Stir in nuts. Pour batter into pan. Bake for 50 minutes or until a toothpick inserted in the center comes out clean.
Recipe by
Cookie Madness
at https://www.cookiemadness.net/2011/08/a-healthier-zucchini-bread/