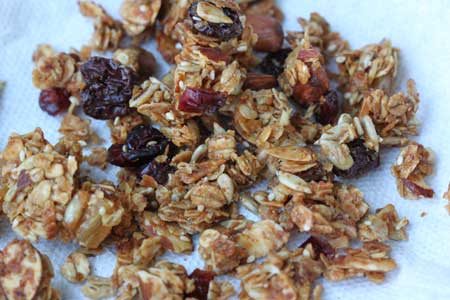 Author: Cookie Madness
Prep time: 10 mins
Cook time: 25 mins
Total time: 35 mins
Recipe for granola with clumps
1 1/3 cup rolled oats
1/4 cup sunflower seeds
1/2 cup almonds, walnuts or pecans
2 tablespoons of untoasted wheat germ
2 tablespoons of sesame seed (optional)
1/4 cup shredded or flaked coconut
1/4 cup honey
2 tablespoons packed light or dark brown sugar
1 1/2 tablespoons unsalted butter or coconut oil
1/8 teaspoon salt
1 teaspoon vanilla extract
3 ounces dried fruit – preferably apricots, golden raisins and raisins
Spread the oats, sunflower seeds, almonds and wheat germ and sesame seeds (if using) on a baking sheet and bake at 350 for 10 minutes or just long enough to toast the oats and nuts.
Meanwhile, line an 8 inch square metal pan with foil and spray foil with cooking spray or just line with non-stick foil.
In a large, microwave-safe mixing bowl, combine the honey, brown sugar, butter, and salt. Heat for 1 minute and stir until smooth. Add the vanilla.
Add the toasted oat mixture and the coconut to the sugar mixture and stir well (save fruit and add it later). Pour into the pan and press down tightly. Bake at 300 for about 20-25 minutes. Remove from pan and let cool completely (this is important). Break up the cooled granola. You should have clumps and crumbs. Spread the not-quite-crisp granola on a tray and re-heat at 300 for about 15 minutes or until it begins to crisp. Remove for the oven and let it cool completely. Stir in whatever dried fruit you like.
Recipe by
Cookie Madness
at https://www.cookiemadness.net/2011/09/very-clumpy-granola/