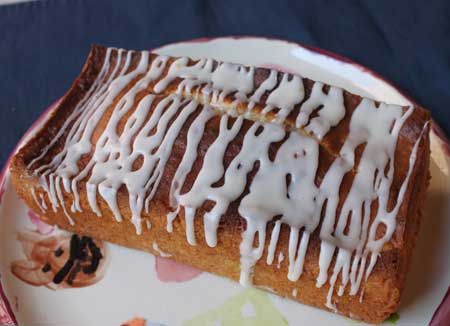 Mexican Vanilla Pineapple Pound Cake
Author: Cookie Madness
Total time: 1 hour 15 mins
Perfect for topping with whipped cream and berrries
1 1/2 cups sifted all-purpose flour (6 oz) – weight it or sift carefully
1/2 teaspoon salt
1/2 teaspoon baking powder
12 tablespoons unsalted butter, softened
3/4 cup granulated sugar
1/4 cup brown sugar
3 large eggs
1 teaspoon Mexican vanilla extract
1/3 cup undrained crushed pineapple
2 tablespoons milk
Icing
1 tablespoon melted unsalted butter
1 cup confectioners' sugar
1 teaspoon fresh lemon juice
1-2 tablespoons pineapple juice
1/4 teaspoon Mexican vanilla extract
Don't preheat the oven yet, because this cake starts in a cold oven. Spray an 8x4 inch (ish) loaf pan with flour-added baking spray.
Thoroughly mix together the sifted flour, salt and baking powder; set aside.
In a mixing bowl using a hand-held electric mixer, beat the butter and both types of sugar until light and creamy. Add the eggs, one at a time, beating for 30 seconds after each egg. Beat in the milk and vanilla, and then add the pineapple. Using a heavy duty rubber scraper or a big fat spoon, gradually stir in the flour mixture.
Pour the batter into the pan and place in a cold oven. Turn heat to 325 F and bake for 50-60 minutes or until top is browned and a toothpick inserted comes out with moist crumbs. Let cool for 10 minutes in the pan. Turn from pan and set upright on a baking rack to cool.
Make the icing. Mix together the butter and sugar. Add the lemon juice and 1 tablespoon of pineapple juice and stir until smooth. If icing is still thick, add more pineapple juice. You want it to be a little too thick to drizzle, but not quite thick enough to spread. Stir in the vanilla. Scrape the icing into a heavy duty freezer bag or just a zipper bag. Snip off the bottom corner and pipe the icing over the cake decoratively.
Recipe by
Cookie Madness
at https://www.cookiemadness.net/2011/09/mexican-vanilla-pineapple-pound-cake/