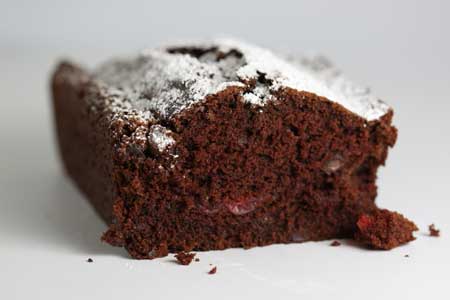 Cherry Chocolate Loaf Cake
Author: Cookie Madness
Prep time: 15 mins
Cook time: 45 mins
Total time: 1 hour
Cherry Chocolate Loaf Cake is adapted from a full size Bundt.
1 stick (4 oz) unsalted butter, softened
3/4 cup very firmly packed light brown sugar
2 large eggs, room temperature
1 1/2 teaspoon cherry extract (Watkins)
1 cup (4.5 oz) all-purpose flour
6 tablespoons unsweetened cocoa power (natural)
1/2 teaspoon plus a pinch of baking soda
1/4 teaspoon plus a pinch of salt
1/2 cup strong black coffee (or water)
1 cup halved Maraschino cherries, patted dry
1 cup semi-sweet or extra dark chocolate chips
Preheat oven to 350 degrees F. Spray an 8 x4 inch or 9x5 inch loaf pan with flour-added baking spray.
Mix the flour, cocoa powder, baking soda and salt together in a medium size bowl and set aside.
In a large mixing bowl using an electric mixer, beat the butter and brown sugar for about two minutes or until light and creamy. Add the eggs and beat for 30 seconds after each egg. Beat in the cherry extract. By hand or using lowest speed of the mixer, stir in the flour mixture. Stir in the cherries and chocolate chips.
Pour batter into pan and bake for 40 to 45 minutes or until a toothpick inserted in the center comes out with moist crumbs. Let cool for about 15 minutes in the pan, then turn onto a cooling rack and let cool completely.
Serve dusted with powdered sugar
Make sure to weigh your flour. If you don't have a scale, sift before measuring.
Recipe by
Cookie Madness
at https://www.cookiemadness.net/2011/09/30/cherry-chocolate-loaf-cake/