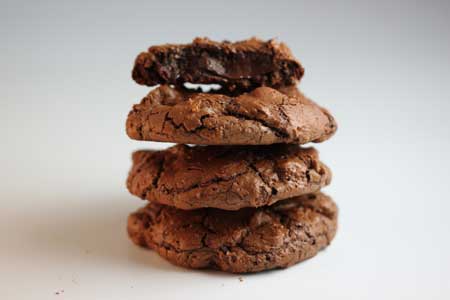 Author: Cookie Madness
1/4 cup plus 1 tablespoons cake flour (1 1/4 oz)
3/4 tsp. baking powder
Pinch of salt
2 3/4 oz. unsweetened chocolate, chopped
8 oz bittersweet chocolate, chopped
3 tablespoons unsalted butter
3 large eggs (weigh to make sure there are 6 oz)
1 cup plus 2 tablespoons granulated sugar (8 oz)
1 teaspoon vanilla extract
10 oz chocolate chips or chunks
In a small mixing bowl, stir together cake flour, baking powder and salt; set aside.
In a microwave-safe bowl, combine both chocolates and the butter. Melt on 50% power stirring at 30 second intervals. Let cool slightly.
Meanwhile, in the bowl of as stand mixer or with a hand-held electric mixer, beat the eggs until light. Beat in the sugar and the vanilla. Beat in the melted chocolate. With a mixing spoon, add the flour mixture and stir just until incorporated. Stir in the chocolate chips or chunks.
At this point the batter is fairly loose and more like cake batter. Chill batter for about 1 hour to thicken.
Preheat oven to 350ºF. Line two large baking sheets with parchment paper or non-stick foil.
With a quarter cup measure, scoop out large mounds (2 oz each) of dough and arrange on the baking sheets spacing 2 ½ inches apart; bake for 12 minutes or until tops are cracked. Let cool on the baking sheet for a few minutes, and then transfer to a wire rack to cool completely. Repeat with remaining dough to make 18 large cookies.