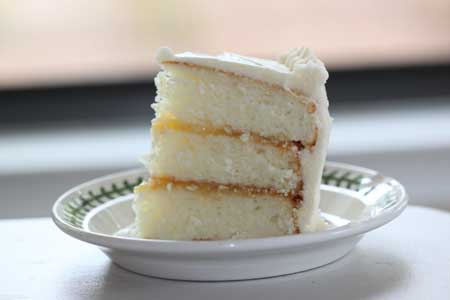 Author: Cookie Madness
Prep time: 20 mins
Cook time: 29 mins
Total time: 49 mins
Scratch lemon cake with lemon curd filling and lemon frosting.
2 1/3 cups cake flour ( 9.25 oz)
2 3/4 teaspoons baking powder
1/4 teaspoon salt
5 large egg whites, at room temperature
1/4 teaspoon cream of tartar
1 3/4 cups granulated sugar
2 tablespoons lemon zest, lightly packed and finely grated
6 ounces unsalted butter, at room temperature
1 cup whole milk, at room temperature
teaspoon vanilla extract
Filling
Frosting
2 sticks (8 oz) unsalted butter, at room temperature
2 tablespoons lemon zest
3 1/2 cups sifted confectioners' sugar
3 tablespoons fresh lemon juice
1-2 tablespoons of milk or as needed
Preheat oven to 350ºF. Spray three 8 by 1 1/2 inch round cake pans with flour-added baking spray or just grease generously and dust with flour.
Mix the flour, baking powder and salt together in a medium size bowl and set aside.
In the bowl of a stand mixer using the whipping attachment, whip egg whites on medium speed until foamy, add cream of tartar, increase speed to high, beat until whites just hold stiff peaks. Scrape them into a second bowl to wait.
In the stand mixing bowl, the same bowl you used to whip the whites, mix 1/4 cup of the sugar with the lemon zest, stirring it around to make an aromatic lemon sugar. Add the softened butter and beat with the paddle attachment until creamy, then add the remaining 1 ½ cups sugar and beat until light and fluffy. Add a little of the milk and beat just until blended.
With the mixer on low speed, add flour mixture alternating with remaining milk in 3 batches, scraping sides of the bowl.
Add about 1/4 of the whites to batter and fold in with a heavy duty scraper, then fold in remaining whites gradually. Divide batter evenly between cake pans and smooth tops. Bake for about 28 minutes or until tops are brown and a toothpick inserted comes out clean.
Let cool for 10 minutes, remove from pans and let cool completely on rack.
Spread the top of two cakes with lemon curd and stack so that you have three layers and two levels of lemon curd filling. Let cake stand for about 30 minutes while you make the frosting.
Frosting: In an electric mixer, beat butter and lemon zest until light and fluffy. Add confectioners' sugar gradually and beat well. Add lemon juice and beat for 1 minute. Add milk as needed until you get a creamy, spreadable consistency.
Recipe by
Cookie Madness
at https://www.cookiemadness.net/2011/10/triple-lemon-cake/