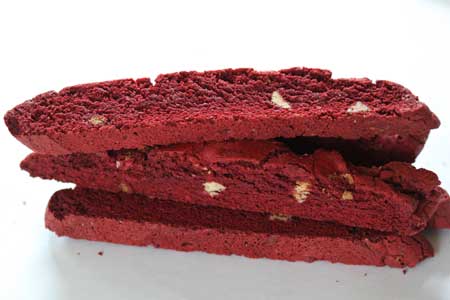 Author: Cookie Madness
Biscotti made with red velvet cake mix
1 box (18.25 oz) red velvet cake mix
1/4 cup all-purpose flour
1 tablespoon vegetable oil
2 large eggs
1 cup white chips or nuts or chocolate chips etc.
Preheat oven to 350ºF.
In a large mixing bowl, mix together the cake mix, flour, oil, and eggs. The batter will be very thick, so you may need to use either the paddle attachment or your hands to get it to come together. Stir in the chips and nuts. Shape the dough into a rectangle about 15x4 inches on an ungreased baking sheet. If you've used the white chips, make sure they're all nestled in the dough and not sticking out on top, otherwise they may turn brown.
Bake the rectangle for about 22 minutes. Remove from the oven and let it cool for half an hour.
Transfer the rectangle to a cutting board and using a serrated knife, make diagonal cuts down the rectangle, spacing about ½ to ¾ inch between each cut. Stand the cut pieces up on the baking sheet and bake at 350 for about 12 minutes. Check to see how hard the edges have become. If they don't seem quite crisp enough and the centers are still soft, turn off the oven and let the biscotti sit in the warm oven for about 10 minutes. Remove from oven and let cool completely.
Recipe by
Cookie Madness
at https://www.cookiemadness.net/2011/10/red-velvet-biscotti/