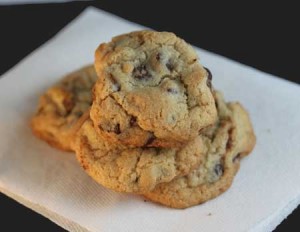 Fuzz's Half-Batch Vanilla-Rich Chocolate Chip Cookies
Author: Cookie Madness
Prep time: 10 mins
Cook time: 12 mins
Total time: 22 mins
Variation on McCormick's "Vanilla Rich Chocolate Chip Cookies from the back of the vanilla extract box and their ads.
1 1/2 cups plus 2 tablespoons (7.3 oz/205 grams) all-purpose unbleached flour
1/2 teaspoon baking soda
1/2 teaspoon salt (we used a bit more than original recipe)
10 1/2 tablespoons (5.25oz/147 grams) unsalted butter, room temperature
1/2 cup plus 2 tablespoons (4.4 oz/120 grams) granulated sugar
1/2 cup (3.8oz/106 grams) firmly packed light brown sugar
1 large egg
2 teaspoons vanilla extract
1 3/4 cup extra dark chocolate chips
1 cup walnuts, toasted and chopped
Preheat oven to 375°F. Have ready two ungreased baking sheets.
Mix flour, baking soda and salt in medium bowl. Set aside. Beat butter and sugars in large bowl with electric mixer on medium speed until light and fluffy. Add egg and vanilla; mix well. Gradually stir in flour mixture on low speed until well mixed. Stir in chocolate chips and walnuts.
Drop by rounded tablespoons about 2 inches apart onto the baking sheets and bake for 10-12 minutes or until lightly browned. Cool on baking sheets 1 minute. Remove to wire racks; cool completely.
Recipe by
Cookie Madness
at https://www.cookiemadness.net/2011/10/09/vanilla-rich-chocolate-chip-cookies/