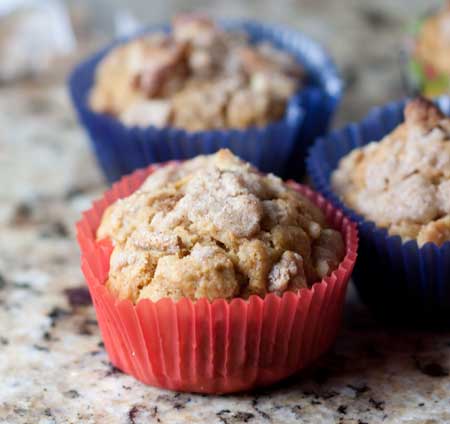 Whole Wheat Pumpkin Maple Spice Muffins
Author: Cookie Madness
Prep time: 10 mins
Cook time: 16 mins
Total time: 26 mins
Muffin with flavors of maple and pumpkin.
2 cups (9 oz) all-purpose or white whole wheat flour
2 teaspoon baking powder
1 teaspoon pumpkin pie spice
1/2 teaspoon salt
1/2 cup firmly packed light brown sugar
3/4 cup buttermilk
8 tablespoons melted salted butter or a stick of I Can't Believe it's Not Butter
1/2 cup maple syrup
1/3 cup canned pumpkin
1 large egg
1/2 teaspoon vanilla extract
TOPPING:
3 tablespoons all-purpose or white whole wheat flour
3 tablespoons granulated sugar
2 tablespoons walnuts, chopped
1/2 teaspoon ground cinnamon
2 tablespoons cold butter or from an ICBINB stick
Preheat oven to 400 degrees F. Spray 16 muffin cups with flour-added baking spray or line with paper liners.
In a large bowl, combine the flour, baking powder, pumpkin pie spice and salt. Stir well, then stir in the brown sugar.
In a second bowl, combine the buttermilk, butter, syrup, pumpkin, egg and vanilla. Add to the dry ingredients and stir just until mixed (don't over-beat).
Fill muffin cups two-thirds full. For topping, combine the flour, sugar, nuts and cinnamon; cut in butter until crumbly. Sprinkle over batter.
Bake for 16-18 minutes or until a toothpick inserted near the center comes out clean. Cool for 5 minutes before removing from pans to wire racks.
Recipe by
Cookie Madness
at https://www.cookiemadness.net/2011/10/15/whole-wheat-pumpkin-maple-spice-muffins/