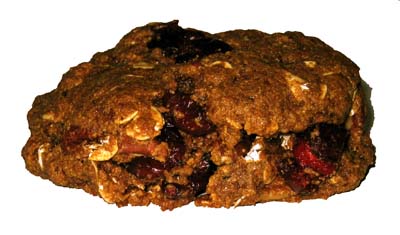 Author: Cookie Madness
Prep time: 10 mins
Cook time: 10 mins
Total time: 20 mins
A nutritious cookie designed for breakfast.
2 cups (8 ounces) whole wheat pastry flour**
1 1/2 teaspoons baking soda
1/2 teaspoon baking powder
1/2 teaspoon salt
1 teaspoon cinnamon ( you can use less if you want)
1 cup brown sugar or sucanet (or turbinado)
2 tablespoons canola oil
1 egg (I've successfully used 2 ENRG egg replacers)
1 egg white
1/3 cup prune puree -- (I use prune baby food) -- applesauce also works
1 1/3 cups rolled oats
1/2 cup pecans -- coarsely chopped and toasted
1/2 cup dried cranberries
Preheat oven to 325 degrees F.
Stir together flour, baking soda, baking powder, salt and cinnamon. Set aside.
In a large mixing bowl, beat together Sucanet, canola oil, egg and egg white and prune puree. By hand stir in flour mixture followed by oats, pecans and raisins.
Drop by 1/4 cup measuring cup or large ice cream scoop on a baking sheet, about 2 inches apart.
Dampen back of a spoon or measuring cup and flatten to about ½ inch (cookies do not spread much during baking. Bake 8 minutes for chewy cookies or 10 minutes for dry.
Bake 8 or 9 minutes or until cookie has set. Let cookies cool completely....they will be soft.
Make sure to stir and aerate your flour well before measuring. I've noticed that the whole wheat pastry flour I buy in the bulk bin weighs about 4 ounces per cup, while Hodgson Mills weighs a little more (about 4 1/2 oz per cup). It's either the brand of flour or the fact the flour in the bin has been stirred and aerated so much. But measure the flour carefully and with a light hand or the cookies might come out too dry.
Recipe by
Cookie Madness
at https://www.cookiemadness.net/2006/01/24/breakfast-cookies/