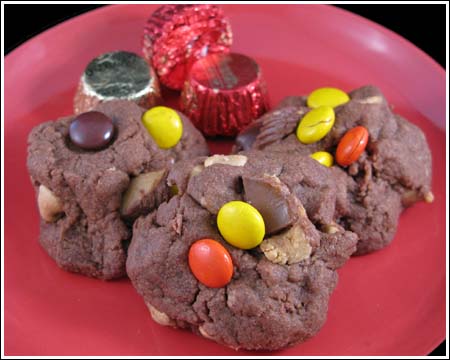 Lara's Double Chocolate Peanut Butter Cookies
Author: Cookie Madness
Prep time: 10 mins
Cook time: 12 mins
Total time: 22 mins
These are double chocolate cookies with both peanut butter and chocolate in the dough.
1 c. butter, softened
3/4 c. peanut butter (Lara used Skippy Super Chunk)
3/4 c. white sugar
3/4 c. packed brown sugar
2 eggs
1 tsp. vanilla extract
2 1/3 cups all-purpose flour
1/3 c. cocoa powder
1 tsp. baking soda
1 c. semisweet chocolate chips
1 c. peanut butter chips
1 package mini Reese's peanut butter cups, frozen and cut into halves (freezing is key!)
1 c. Reese's Pieces (Since chocolate chips, peanut butter chips, and peanut butter cups aren't decadent enough)
Preheat oven to 350 degrees.
In a large bowl (I used my KitchenAid mixer), cream together the butter, peanut butter, white sugar, and brown sugar until smooth. Beat in the eggs one at a time, then stir in the vanilla. Combine the flour, cocoa, and baking soda; stir into the peanut butter mixture. Mix in the chocolate chips, peanut butter chips, and Reese's Pieces.
Drop by tablespoonfuls onto ungreased cookie sheets. (Whoops – I sprayed mine with cooking spray and they turned out fine). Push one (or if you are over-the-top, like me, two) peanut butter cup half into the center of each ball of dough. Bake for 8 to 10 minutes. ***Let cool for 1 or 2 minutes on sheet before removing, or they will fall apart.***
cookies
Note from Anna: Recipe calls for regular butter and does not include salt. If you use unsalted butter, you might want to add some salt (generous half teaspoon) to the batter to keep the cookies from tasting flat.
Recipe by
Cookie Madness
at https://www.cookiemadness.net/2008/02/05/laras-cookies/