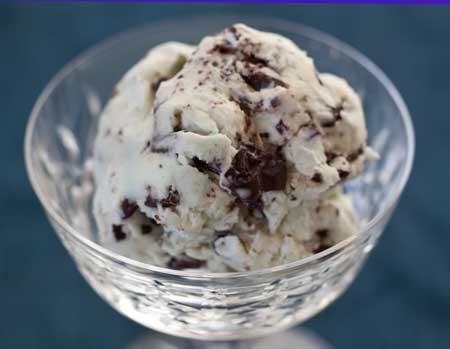 Super Simple Mint Chocolate Chunk Ice Cream
Author: Cookie Madness
Prep time: 10 mins
Cook time: 10 mins
Total time: 20 mins
An easy ice cream recipe you can make without an ice cream maker.
7 oz dark chocolate (2 3.5 oz Lindt mild dark or 70%)
4 teaspoons light olive oil or vegetable oil OR cococnut oil
1 (14 oz) can of Eagle Brand condensed milk
1/2 cup half & half cream
1/4 scant teaspoon salt
1 teaspoon peppermint extract plus an extra 1/2 teaspoon if needed
3/4 teaspoon vanilla extract
green food coloring or a few drops of yellow and blue
2 cups whipping cream
Melt your chocolate in the microwave using the 50% power setting and stirring at 30 second intervals. Stir the olive oil into the melted chocolate. Pour the mixture onto two plates lined with parchment paper or non-stick foil. Put plates of melted chocolate in the freezer for about 30 minutes or until solid.
In a large mixing bowl, stir together your condensed milk, half & half, salt and flavorings. Add a little blue and yellow to make green, or just add a little green coloring if you have that.
In a second bowl, whip the cream until stiff peaks form. Fold the whipped cream into the condensed milk mixture.Now take your chocolate out of the freezer, peel away the foil and cut the chocolate into chunks. Stir the chunks into the ice cream. Divide equally among two small plastic containers or pour into a loaf pan and cover with foil. Freeze overnight. Makes about 6 to 8 servings. It's rich so you might want to portion it out among small, pretty, glasses.
If you are worried about chocolate chunks sinking to the bottom, put the ice cream in the container (or containers) first, then kind of pile the chocolate chunks on top and swirl them in just a bit. This should keep them from sinking, though I haven't had that issue yet.

Also, feel free to add more oil if you feel the chocolate isn't soft enough with 4 teaspoons. 4 teaspoons worked perfectly for me.
Recipe by
Cookie Madness
at https://www.cookiemadness.net/2011/11/05/super-simple-mint-chocolate-chunk-ice-cream/