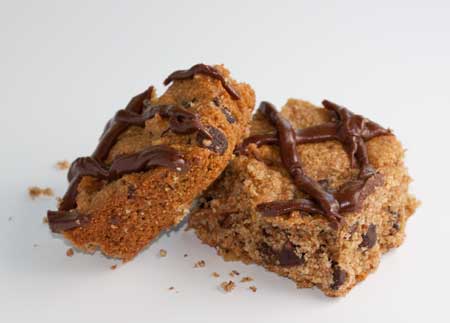 Author: Cookie Madness
Prep time: 10 mins
Cook time: 25 mins
Total time: 35 mins
Fall themed nut bar sweetened with maple syrup.
1 cup whole wheat flour
1/2 teaspoon baking powder
1/2 teaspoon baking soda
1/4 teaspoon salt
1 large egg white
1/4 cup plus 2 tablespoons pure maple syrup
1/4 cup canola oil or light tasting olive oil
1/4 cup milk
3/4 teaspoon vanilla
3/4 cups toasted hazelnuts and pecans
1/2 cup dark chocolate pieces or dark chocolate chips
Chocolate-Hazelnut Frosting
2-3 tablespoons chocolate-hazelnut spread (Nutella!)
1 1/2 tablespoons milk
1/2 tablespoon pure maple syrup
1/4 cup unsweetened cocoa powder
1/2 cup plus 2 tablespoons powdered sugar
Preheat oven to 350 degrees F. Line an 8 inch square metal pan with foil and spray with flour-added cooking spray.
Combine flour, baking powder, soda and salt in a large mixing bow; set aside.
In medium bowl whisk together egg whites, maple syrup, oil, milk and vanilla; add to flour mixture. Stir to combine. Stir in the cooled toasted nuts and the chocolate. Spread in prepared pan.
Bake 25 to 30 minutes or until a toothpick inserted near center comes out clean. Cool on wire rack and then lift from pan. Spread with Chocolate-Hazelnut Frosting or put the frosting in a freezer bag, snip off the bottom corner, and pipe stripes of it over the top.
I didn't use all the frosting.
Recipe by
Cookie Madness
at https://www.cookiemadness.net/2011/11/10/two-nut-maple-bars/