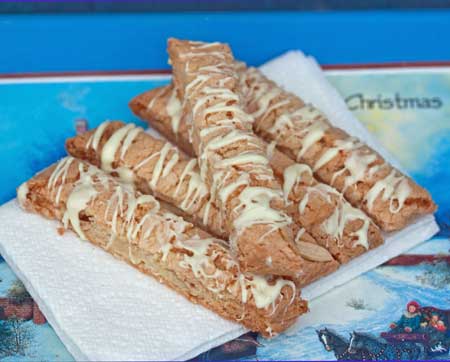 Toasted Almond Cantuccini
Author: Cookie Madness
An easy version of an Italian classic.
1/2 cup slivered almonds
1 (16.5 oz) package Pillsbury sugar cookie dough
3/4 teaspoon almond extract
1/3 cup all-purpose flour
3 oz white chocolate, chopped
Preheat oven to 350 degrees F. Line a large baking sheet with non-stick foil or spray with cooking spray.
In a dry, skillet, cook the almonds over medium heat, stirring often, just until they start to brown. Remove from skillet and let cool.
Crumble cookie dough in a large mixing bowl. Add the almond extract, flour, and almonds to the cookie dough and stir until mixed.
Divide dough in half and shape into two rectangles about 11x2 inches each. With a spatula, transfer the rectangles to the baking sheet, spacing them about 5 inches apart.
Bake for 25-28 minutes. Carefully transfer warm rectangles to a cutting board and slice (no need to let them cool), slightly on the diagonal, about 3/4 inch thick. Carefully stand the cut cookies on the baking sheet and bake for another 10-12 minutes. Cool completely on baking sheet.
Tips: -- I found it easier to cut this cantuccini straight up and down rather than with a sawing motion. --The cookies are delicate, so be careful transferring them back to the pan
Recipe by
Cookie Madness
at https://www.cookiemadness.net/2011/11/21/toasted-almond-cantuccini/