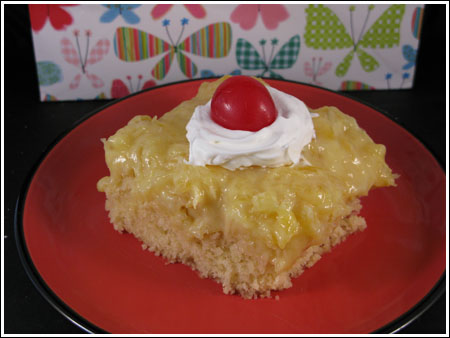 Pineapple Cake with Pineapple Topping
Author: Cookie Madness
Prep time: 10 mins
Cook time: 40 mins
Total time: 50 mins
A revised version of Bessie's Pineapple Cake. This is a pineapple sheet cake with a pineapple topping. It is served from the pan and perfect for potlucks.
1 box (16.5 oz) Duncan Hines "Pineapple Supreme" cake mix
1 (3.4 oz) box vanilla instant pudding mix
4 large eggs
1/2 cup vegetable oil
1 cup water
Topping:
1 stick (4 oz) unsalted butter
1/4 teaspoon salt (omit if using salted butter
5 oz can evaporated milk.
1 1/2 cups sugar
3 large egg yolks, whisked together in a medium size bowl
1 teaspoon vanilla extract
1 (20 oz) can crushed pineapple, well drained
Preheat oven to 325 degrees F. Grease the bottom of a 9x13 inch glass baking dish.
In a mixing bowl, combine the cake mix, pudding mix, eggs, oil and water.
Beat the mixture on low until blended, the increase mixer speed and beat for about 2 minutes or until smooth.
Pour batter into the pan and bake for about 40 minutes or until cake springs back when touched.
Set the cake on a rack to cool.
Put butter in a large (3 quart) nonstick saucepan and begin melting over medium heat.
When butter is about halfway melted, add evaporated milk and sugar. Continue cooking over medium heat, whisking often, until butter is completely melted and mixture is hot and just beginning to simmer around the edges.
Whisk 1/3 cup of the hot milk mixture into the egg yolks to temper, then whisk egg yolk mixture into saucepan and continue cooking over medium, whisking constantly, until mixture boils and thickens.
Whisking constantly, cook at a gentle boil for a little over a minute. Mixture will thicken slightly, but will not be as thick as pudding.
Remove from heat and let cool for about 5 minutes. Add vanilla extract and drained pineapple and leave mixture to cool at room temperature. It will still be slightly loose at this point, but will thicken a bit more when refrigerated.
When cake is cool, pour pineapple mixture over cake. Place in refrigerator and chill until pineapple topping sets.
To make it look pretty, you may want to garnish with whipped cream and stemmed cherries before serving.
Recipe by
Cookie Madness
at https://www.cookiemadness.net/2008/02/pineapple-cake/