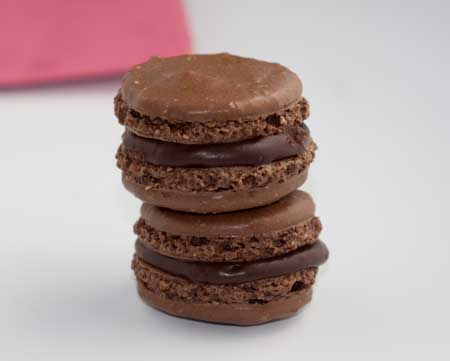 Author: Cookie Madness
Total time: 1 hour 32 mins
An easy chocolate macaron recipe that doesn't require a food processor.
1 cup confectioners' sugar
1/2 cup Bob's Red Mill almond flour/meal
3 tablespoons unsweetened cocoa powder, I used a mixture of Hershey's dark and natural
2 large egg whites, at room temperature
1 pinch cream of tartar
4 3/4 tablespoons granulated sugar
1/4 teaspoon vanilla extract
Chocolate Ganache Filling
1/2 cup (4 oz) heavy cream
4 ounces good quality dark chocolate (50 to 70%)
Line two baking sheets with parchment paper or non-stick foil and have ready a pastry bag with a 1/4 inch or 1/2 inch tip. Most recipes call for a 1/2 inch tip, but I only had a 1/4 inch and it worked just fine.
Set a sieve over a bowl. Combine the confectioners' sugar, almond flour and cocoa and press through the sieve.
With a hand-held electric mixer, beat the egg whites until they start to hold their shape. Beat in the cream of tartar and vanilla, and then gradually add the granulated sugar.
With a rubber scraper, fold in the dry ingredients. When mixed, add to pastry bag. Pipe the batter into 1 inch circles on the lined baking sheets spacing about 1 inch apart. Let the macarons sit out for about 60 minutes. They'll start to lose their sheen.
Preheat oven to 375 degrees F. When preheated, put the macarons in the oven, shut the door and immediately reduce heat to 325 F. Bake for about 12 minutes. Remove macarons and return the oven heat to 375 F and repeat with the second tray of macarons.
Let the cookies cool completely on the baking sheet, then carefully remove.
For the ganache, bring the cream to a simmer or just until it is hot and starts to bubble around the edges in a small saucepan. Add the chocolate, remove from heat and stir until smooth. Let cool slightly. Chocolate will thicken a little as it cools. Drop a spoonful of chocolate over half the macarons and cap with the remaining.
Allow the ganache to set. I cheated and put the macarons in the refrigerator.
Be careful not to over-bake or the macarons won't be chewy. To be safe, you might want to pipe about 2 circles onto a separate cookie sheet and do a quick test batch.
Recipe by
Cookie Madness
at https://www.cookiemadness.net/2011/11/chocolate-macarons/