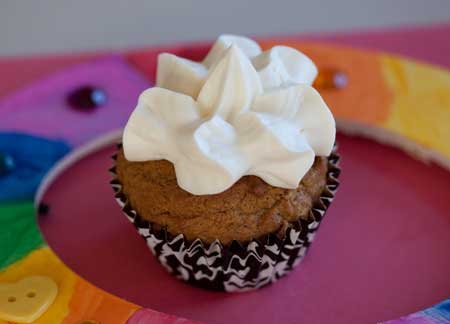 Pumpkin Cupcakes with Pudding in the Mix
Author: Cookie Madness
Prep time: 10 mins
Cook time: 25 mins
Total time: 35 mins
Scratch pumpkin cupcakes with instant pudding.
2 sticks unsalted butter, softened
1 cup granulated sugar
1 cup packed brown sugar
4 large eggs
1 teaspoon vanilla extract
1 (15-ounce) can pumpkin puree
2 cups (9 oz) all-purpose flour
1 (3.4-ounce) package instant vanilla pudding mix
2 teaspoons baking soda
1/2 teaspoon salt
2 teaspoons ground cinnamon
1 teaspoon pumpkin pie spices
Cream Cheese Frosting
1/2 cup heavy cream, cold
8 oz cream cheese, room temperature
2 oz unsalted or salted butter, softened
2 cups confectioners' sugar
1 teaspoon vanilla
1 teaspoon lemon juice, fresh
Preheat an oven to 350 degrees F. Line 24 muffin cup with line paper muffin liners.
In a large mixing bowl using an electric mixer, beat the butter and both sugars until light and fluffy. Add the eggs one at a time. Beat in the vanilla and pumpkin puree.
Mix the flour, pudding mix, baking soda, salt, cinnamon, and pumpkin pie spice together in a separate bowl, then gradually add to the pumpkin mixture stirring just until blended
Pour the batter into the muffin cups and bake for 20-25 minutes or until tops are golden and toothpick inserted comes out clean. Cool in the pans for 10 minutes before removing.
In a mixing bowl, beat the whipping cream until stiff peaks form and set aside. In a second bowl, beat the cream cheese, butter, confectioners' sugar, vanilla and lemon juice until creamy. Stir the whipped cream into the cream cheese mixture. Frost the cupcakes.
Recipe by
Cookie Madness
at https://www.cookiemadness.net/2011/11/pumpkin-cupcakes-with-pudding/