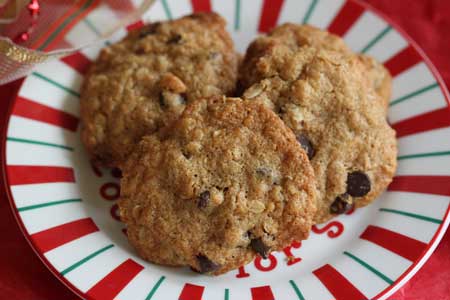 Bonnie's Oatmeal Peanut Butter Cookies
Author: Cookie Madness
Prep time: 10 mins
Cook time: 10 mins
Total time: 20 mins
This is a relatively nutritious cookie made with peanut butter, oats and nuts.
3/4 cup canola oil or your favorite vegetable oil
3/4 cup peanut butter
1 cup dark brown sugar (I used light)
1/2 cup granulated sugar
1 tsp. baking powder
1/2 tsp. baking soda
1/2 tsp. salt
1 tsp. cinnamon
2 large eggs
1 tablespoon vanilla
1 cup whole wheat pastry flour
2 cups old fashioned oats
2/3 cup chopped cranberries (or chocolate chips)
2/3 cup chopped walnuts (or any other nut)
Preheat oven to 375 and have ready a couple of ungreased baking sheets.
With a mixing spoon, beat together oil & peanut butter. Add sugars, baking powder, baking soda, salt & cinnamon. Beat in eggs & vanilla. Stir in flour; then stir in oats, cranberries and nuts.
Drop by rounded teaspoonfuls' or level tablespoons onto the ungreased baking sheets and bake at 375 for 8-10 minutes or until lightly browned.
I haven't baked all my dough yet, but the yield is probably around 36 cookies.
If you use a natural peanut butter or one that's slightly runny, you may need to chill the dough just enough so that it holds its shape when scooped.
Recipe by
Cookie Madness
at https://www.cookiemadness.net/2011/12/06/bonnies-oatmeal-peanut-butter-cookies/