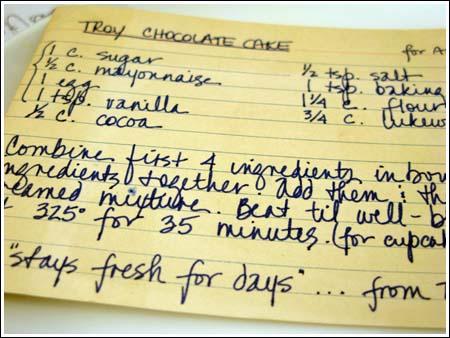 Author: Cookie Madness
Prep time: 10 mins
Cook time: 35 mins
Total time: 45 mins
An easy chocolate cake made with mayonnaise.
1 cup granulated sugar
1/2 cup mayonnaise
1 large egg
1 teaspoon vanilla
1/2 cup cocoa powder
1/2 teaspoon salt
1 teaspoon baking soda
1 1/4 cups flour
3/4 cups lukewarm water
Sour Cream Chocolate Icing
4 tablespoons butter
1/3 cup cocoa powder (unsweetened natural)
1 ½ cups sifted confectioners sugar
1/3 cup sour cream
1 teaspoon vanilla
Combine first 4 ingredients in bowl. Sift dry ingredients together. Add them & the water to creamed mixture. Beat till well-blended. Bake at 325 degrees (I used an 8 inch square pan) for 35 minutes. For cupcakes, bake at 350 degrees for 15 minutes.
To make the frosting, melt the butter and place in a microwave safe bowl. Add the cocoa powder and stir until smooth. Add the confectioner's sugar and sour cream alternately to the chocolate mixture and beat until fluffy. Beat in the vanilla.
1. I baked it in an 8 inch square metal pan. Only one bowl is required for mixing and I didn't need an electric mixer for the cake batter.
2. If you make the frosting, you will need the electric mixer. Even with the mixer, mine had a few lumps, but it was great frosting.
3. Since the recipe calls for baking soda and no baking powder, I used natural cocoa, which is more acidic than Dutch process. Dutch process might work, but the natural was excellent.
Recipe by
Cookie Madness
at https://www.cookiemadness.net/2008/02/troy-chocolate-cake/