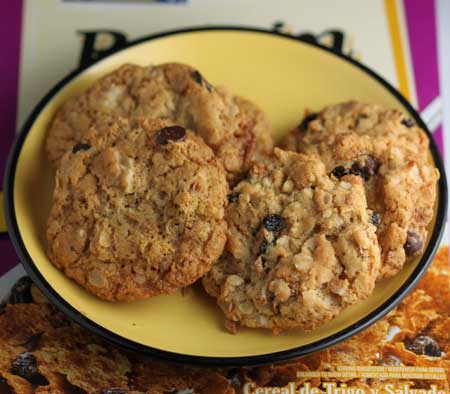 Crunchy Raisin Bran Cookies
Author: Cookie Madness
Prep time: 10 mins
Cook time: 12 mins
Total time: 22 mins
If you want to use up Raisin Bran, try these cookies. They might make you buy more Raisin Bran, though.
1 1/8 cups (5.6 oz) all-purpose flour or white whole grain
1 teaspoon baking powder
1 teaspoon baking soda
1/2 teaspoon salt
1/2 cup oats, old fashioned type
1 stick (4 oz) unsalted butter, room temperature
3/4 cup firmly packed brown sugar
1/2 cup granulated sugar
1 large egg
1 1/2 teaspoon vanilla
1 cup Raisin Bran cereal
3/4 cup flaked coconut -- original version used more
1/2 cup toasted walnuts, chopped
1/2 cup dark chocolate chips OR 1/2 cup currants, raisins or whatever dried fruit you have around
Preheat oven to 350ºF. Have ready a large ungreased baking sheet.
Mix flour, baking powder, baking soda, salt and oats in a small bowl; set aside.
In a large mixing bowl, beat butter and sugars with an electric mixer until light and fluffy.Add egg and vanilla; mix well. Gradually add flour mixture, mixing with a spoon until well blended. Add cereal, coconut, nuts, and chocolate chips (or dried fruit). Drop by heaping teaspoons spacing 2 inches apart onto baking sheets. Bake 12 to 15 minutes or until lightly browned. Let cool on tray for a few minutes, then transfer to a rack to finish cooling.
Crush the Raisin Bran after measuring out 1 cup. Also, this recipe halves well. To halve an egg, break it into a cup, beat it with a fork and measure out 2 tablespoons.
Recipe by
Cookie Madness
at https://www.cookiemadness.net/2012/01/crunchy-raisin-bran-cookies/