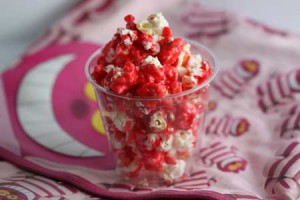 Author: Cookie Madness
Prep time: 10 mins
Cook time: 60 mins
Total time: 1 hour 10 mins
Red Hot Cinnamon Popcorn is a lot of fun all through the year, but it's especially nice during the holidays.
4 tablespoons unsalted butter plus extra for pan
1/4 cup granulated sugar
2 tablespoons light corn syrup
1/4 cup plus 2 tablespoons Red Hots
1/8 teaspoon baking soda
6 to 8 cups (I used 6) popped microwave popcorn
Preheat oven to 250 degrees F. Butter a large roasting pan.
In a small nonstick saucepan, melt the butter over medium heat. Add the sugar, corn syrup and Red Hots and continue stirring until the red hots are melted. Once they're fully melted, insert a candy thermometer and continue heating for 3 minutes or until the candy reaches hard ball stage. Remove from heat and immediately add baking soda. Pour over the popcorn, then empty into the roasting pan.
Bake at 250 for 1 hour, stirring every 15 to 20 minutes. Cool completely. Break into pieces.
If you have some cinnamon oil, add a few drops after you add the baking soda.
Recipe by
Cookie Madness
at https://www.cookiemadness.net/2012/01/red-hot-cinnamon-popcorn/