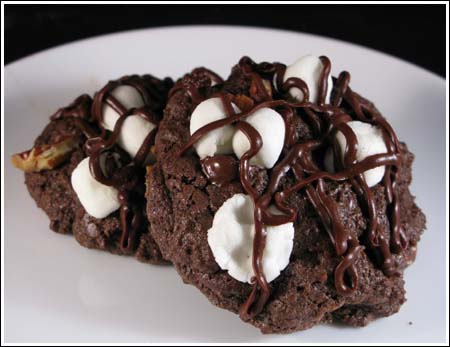 Rocky Road Chocolate Cookies
Author: Cookie Madness
Prep time: 10 mins
Cook time: 12 mins
Total time: 22 mins
Rocky Road Chocolate Cookies (Adapted from Great Cookies by Carole Walter)
2 cups (9 oz) all-purpose flour
2/3 cup cocoa powder (I used a mix of natural and Dutch)
1 teaspoon baking powder
1 teaspoon salt
1/2 teaspoon baking soda
8 oz (2 sticks) unsalted butter, slightly firm, cut into chunks
1 1/2 cups granulated sugar
2 large eggs
2/3 cup sour cream
2 teaspoons pure vanilla extract
1 cup broken toasted pecans
1 1/2 cups bittersweet chocolate chips
2 cups mini-marshmallows
Glaze Ingredients:
1/2 cup semisweet chocolate chips
2 tablespoons unsalted butter
2 teaspoons boiling water
Preheat oven to 350 degrees F.
Sift the flour, cocoa, baking powder and salt together 3 times. Set aside.
Using an electric mixer, beat the butter on medium speed until creamy and lightened in color, about 2 minutes. Add the sugar and beat 1 minute longer. Add the eggs and mix until combined. Mix in the sour cream and the vanilla.
Reduce the mixer speed to low and add the dry ingredients in two additions, mixing just until blended. Using a large rubber spatula, fold in the pecans and chocolate chips.
Using about a quarter cup measure, shape dough into mounds and place 3 inches apart onto parchment paper or Silpat lined cookie sheets. Bake for 12 minutes or until just starting to set on top. Remove from the oven and press nine or ten mini-marshmallows at random onto the tops. Return the cookies to the oven and bake for another 2 minutes or just until the marshmallows start to soften. WATCH CAREFULLY. Do not allow the marshmallows to become too hot or they will melt. These cookies are best slightly underbaked.
Let rest on the cookie sheets for 5 minutes or until firm enough to handle before loosening with a large metal spatula. Remove to a wire cooling rack set over a jelly roll pan or a sheet of wax paper.
Glaze the Cookies
Combine the chocolate chips and the butter in a medium bowl set over a pan of simmering water. Melt together, stirring occasionally. [Or microwave for 30 seconds or so] Add the boiling water , ½ teaspoon at a time, to thin to a pouring consistency. Using a spoon or a fork, drizzle the glaze over each cookie. Let stand on the cooling racks until the glaze sets.
Note: I left out the boiling water, spooned the glaze into a heavy duty zipper bag, snipped a tiny hole in the bottom corner and squeezed the glaze out the corner.
Recipe by
Cookie Madness
at https://www.cookiemadness.net/2008/03/rocky-road-chocolate-cookies/