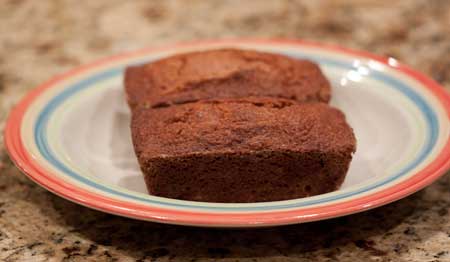 Author: Cookie Madness
One Bowl Mini pumpkin loaves. Makes 2 small loaves.
1/4 cup melted and cooled coconut oil or vegetable oil
3 tablespoons walter
1 large egg
1/2 teaspoon vanilla
1/2 cup canned pumpkin
1/2 teaspoons baking soda
1/4 teaspoon salt
3/4 cups granulated sugar or Fibrelle
1/4 cup plus 2 tablespoons whole wheat flour (1.8 oz)
1/4 cup plus 2 tablespoons all-purpose flour (1.7 oz)
Preheat the oven to 350 degrees F. Grease and flour 2 mini (3x5) inch loaf pans. To be safe, put a little parchment paper on the bottom of the pan.
In a large bowl, whisk together the oil, water, egg, vanilla and pumpkin. Whisk in the baking soda and salt, and sugar (or Fibrelle). Add the flour and stir until it is mixed in. Divide among the loaf pans and bake for 45 minutes or until a toothpick inserted in the bread comes out clean.
Recipe by
Cookie Madness
at https://www.cookiemadness.net/2012/01/13/one-bowl-mini-pumpkin-loaves/