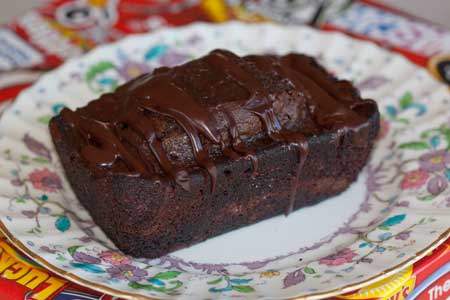 Mini Chocolate Loaf Cakes with Ganache
Author: Cookie Madness
Small batch chocolate loaf cakes with a drizzle of ganache
1/2 cup (2 oz) cake flour
1/2 cup (3.5 oz) granulated sugar
1/4 cup unsweetened natural cocoa powder
1/2 teaspoon baking soda
1/8 teaspoon salt
4 tablespoons unsalted butter, softened
1/4 cup buttermilk
2 tablespoons lightly beaten egg
1/2 teaspoon vanilla extract
1/4 cup cooled brewed coffee
1/4 cup chocolate chips
1 oz heavy cream
1 oz good quality semi-sweet chocolate, chopped
Preheat the oven to 325F. Rub two 3x5 inch mini loaf pans with shortening or butter and dust with cocoa powder.
Combine the flour, sugar, cocoa, baking soda and salt in small yet deep mixing bowl and stir very well. Add the soft butter and squish it around with the back of a spoon, coating the flour mixture. Stir in the buttermilk. With a hand-held mixer, beat the mixture for about two minutes, scraping sides of bowl, until smooth.
Mix the lightly beaten egg, vanilla and cooled coffee together in a small bowl or measuring cup. Add to the batter in three parts, stirring gently with a spoon until mixed. Stir in the chocolate chips. Bake on center rack at 325 F for about 45 minutes or until a toothpick inserted in the center comes out clean. Cool in the pan set on a wire rack for about 10 minutes, then carefully turn from pan.
To make the ganache, heat the cream for about 30 seconds (or just until hot) in a microwave-safe measuring cup. Add the chocolate. Let sit for a minute, then stir until melted and smooth. This ratio thickens pretty quickly and is harder to drizzle So to drizzle, transfer to a zipper bag (heavy duty is best, but regular is okay if you're careful not to break it) snip a tiny bit off the bottom corner of the bag, then squeeze lines of ganache over the loaves. Chill to set the ganache.
Recipe by
Cookie Madness
at https://www.cookiemadness.net/2012/01/mini-chocolate-loaf-cakes/