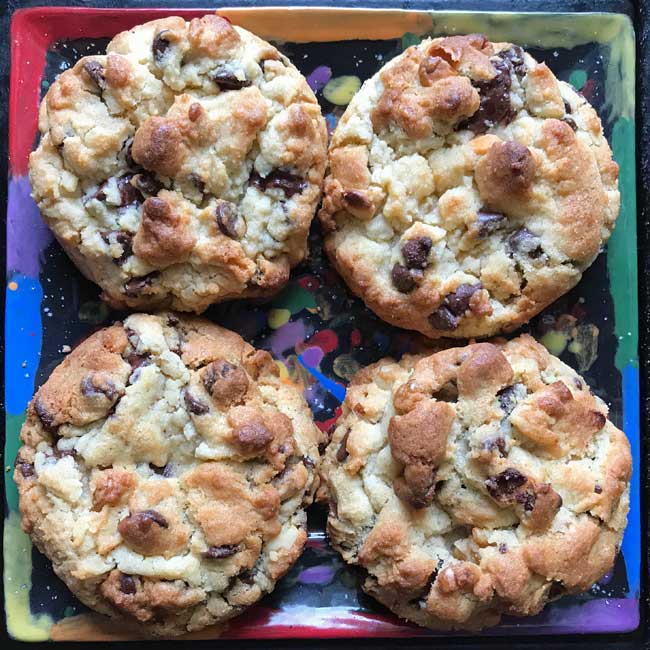 Levain Big Fat Cookie Recipe Copycat
Author: Cookie Madness
Prep time: 10 mins
Cook time: 20 mins
Total time: 30 mins
This is my latest version of the recipe. I usually play around with different types of flour, but King Arthur bread flour makes the thickest cookies. Walnuts and cornstarch draw moisture from the dough causing the cookies to spread less. For a nut-free version, see the note.
2 2/3 cup (330 grams) bread flour, King Arthur (weigh for best results)
1 scant teaspoon salt, or slightly less if putting salt on top
1 teaspoon baking soda
2 teaspoons cornstarch
16 tablespoons cold unsalted butter (230 grams)
1/2 cup granulated sugar (96 grams)
2/3 cup packed light brown sugar (140 grams) -- best to weigh brown sugar
1 egg (54 grams)
1 egg yolk (15-16 grams)
1/2 teaspoon vanilla (optional)
2 cups (can use more or less) assorted milk and bittersweet chocolate chips
1 cup untoasted coarsely chopped walnuts
First, weigh out the flour and thoroughly mix in the salt, baking soda and cornstarch. The walnut version does not call for baking powder. If you are making a no-nut version, you will need some baking powder (see note).
In the bowl of a stand mixer using the paddle attachment, beat the cold butter until creamy. Add the sugar and beat for 4 full minutes, scraping side of the bowl often.
Stir in the egg and the yolk, then scrape sides of bowl and beat for another minute.
Add the flour mixture to butter mixture and stir until blended by hand or on very low speed JUST until almost blended. Add the walnuts and stir on low until blended and flour has disappeared, then stir in the chips. It's very important not to overwork the dough at this point.
Dump the mixture onto a big pastry mat or clean service and knead gently to incorporate any loose flour or chips. Shape into 7 giant balls. Put the dough balls in a zipper bag and chill for 3 hours or until ready to bake..
Bake in a preheated convection oven at 400 for 10 minutes, then reduce heat to 330 and continue cooking for about 10 minutes or until done. If you don't have a convection oven just bake at 375 degrees for 20 minutes or until done.
You can also use a a regular oven, start at 400 for 15 minutes and bake at 330 for 8.
Allow the cookies to cool for at least an hour. They are a little delicate and need to set. However, if you really want a very warm cookie you can let them cool and set, then heat them again for a few minutes in a 350 oven.
Also, one little cheat you can use to make taller cookies is to push them inward with the spatula while they are warm and gently nudge into rounds.
For the nut-free version, make these changes.
1. Instead of using 1 teaspoon of baking soda, use 1 teaspoon of baking powder and 1/4 teaspoon of baking soda. 2. Instead of 1 egg and 1 yolk, use 1 egg and 2 yolks. 3. Use only 130 grams of brown sugar
Chill the cookies for a few hours and then bake. If you need to hold the dough overnight, keep it in the freezer.
Recipe by
Cookie Madness
at https://www.cookiemadness.net/2012/01/17/levain-cookie-recipe-copycat/