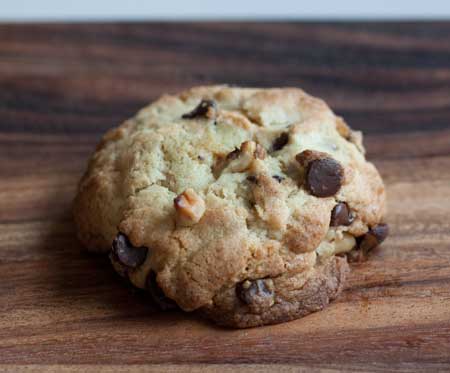 My Best Levain Big Fat Cookie Recipe Copycat
Author: Cookie Madness
Prep time: 600 mins
Cook time: 18 mins
Total time: 10 hours 18 mins
Older Version Levain Copycat Cookies.
2 sticks (8 oz) unsalted butter, very cold, chopped up (232 grams) -- Plugra, if available
3/4 cup plus 4 teaspoons very tightly packed brown sugar (168 grams)
1/2 cup (100 grams) granulated sugar
3 cups bread flour (376 grams) (see note about flour types)
1 1/4 teaspoon salt (decrease to 3/4 if using salted butter)
1/4 teaspoon baking soda
1 teaspoon baking powder
1-2 teaspoons cornstarch**
2 cold eggs, extra large beaten in a separate bowl (110-112 grams)
1 teaspoon vanilla extract
1 1/2 cups extra dark chocolate chips such as Guittard extra dark (in the shiny red bag)
1 cup walnuts, toasted and coarsely chopped (important for texture)
In the bowl of a stand mixer, beat the cold butter until it is creamy. Add the sugar and continue to beat for about 4 minutes, scraping sides of bowl often.
Gradually add the eggs and vanilla and continue to beat until well blended, scraping sides of
In a separate bowl, mix the flour, salt, baking soda, baking powder, cornstarch (if using) and dry milk powder (if using).bowl..
Gradually add the flour mixture stirring just until mixed.
Stir in the chocolate chips and nuts.
Pull the dough out and divide it into 8 pieces, form into large flat rounds. Alternatively, you can divide the dough into seven pieces for even larger cookies. The cookies will be giant either way!
Put the formed dough balls in a zipper bag and chill overnight. This will help them hold their shape.
If you are using convection, preheat to 350℉ convection and bake cookies for 18-20 minutes or until the top starts to crack. Allow the cookies to cool for at least an hour before serving.
If you are using a regular oven, bake at 375 for about 18 to 20 minutes or until tops start to crack.
Let cool for about 5 minutes on the cookie sheet, then remove and finish cooling on a rack.
I've tested these with all kinds of flour combinations and like bread flour the best because it makes the cookies fatter and gives them a harder shell. You can use bread flour, a combination of bread and all-purpose, bread mixed with cake -- whatever works best in your kitchen. As for the butter, I used to always make these with Plugra or HEB European style, but when I started testing with other brands of European style butter I had mixed results. Land o Lakes seems to work just fine, though the cookies might spread a tiny bit more. Adding dried milk makes the cookies a tiny bit softer, but it's not a crucial ingredient. Cornstarch curbs the spread a little bit, but I think a good chill overnight does a better job.
Recipe by
Cookie Madness
at https://www.cookiemadness.net/2012/01/17/levain-cookie-recipe-copycat/