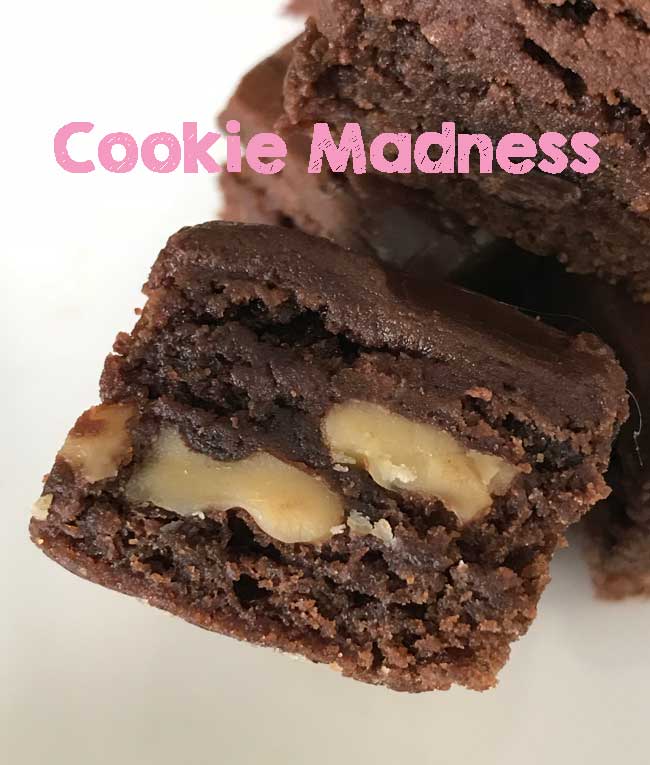 Best Brownies from Allrecipes.com
Author: Cookie Madness
Prep time: 20 mins
Cook time: 25 mins
Total time: 45 mins
Best Brownies from allrecipes.com are easy frosted brownies made in an 8 inch square pan.
2 eggs (90 grams) -- large, not extra large or jumbo
1/2 cup all-purpose flour (65 grams)
1/3 cup unsweetened natural style cocoa powder (30 grams)
1/4 teaspoon salt (omit if using salted butter)
1/4 teaspoon baking powder
8 tablespoons unsalted butter (84 grams)
2 tablespoons vegetable oil
1 cup granulated sugar (200 grams)
1 teaspoon vanilla extract
1/3 cup toasted walnuts (optional)
1/3 cup semisweet chocolate chips (optional)
Frosting:
3 tablespoons unsalted butter, softened
1 tablespoon honey
1 cup sifted confectioners sugar (95 grams)
3 tablespoons unsweetened cocoa powder
1/2 teaspoon vanilla extract
Pinch of salt (omit if using salted butter)
1-3 tablespoons whole milk that's been warmed or is at room temperature
Preheat oven to 350 degrees. Line an 8 inch square pan with nonstick foil (or use regular foil and spray with cooking spray).
Crack the eggs into a small bowl and beat with a fork until whites and yolks are blended. Set aside.
In a another bowl, thoroughly whisk together the flour, cocoa powder, salt and baking powder. Set aside.
In a large (3 quart) saucepan, melt the butter over medium or medium low heat. Alternatively, you can do this in a microwave-safe mixing bowl.
Remove from heat and add the sugar to the warm butter. Stir gently, then stir n the oil and vanilla until blended. Add the eggs gradually, stirring with a spoon or scraper until blended. Add the flour mixture and stir until blended, then add the walnuts and chocolate chips.
Transfer to the pan and spread evenly. Bake for 25 minutes or until set, then let cool at room temperature.
To make frosting, combine the softend butter and honey in a mixing bowl. Sift together the cocoa powder and sugar, then add to the honey and butter mixture, beating until blended. Add the vanilla and a pinch of salt if needed. Using a hand held mixer, beat in the milk one tablespoon at a time until icing is very soft. Spread over the warm brownies. Let the brownies cool completely, then chill if desired.
Lift from pan and cut into squares.
Recipe by
Cookie Madness
at https://www.cookiemadness.net/2006/01/09/best-brownies/