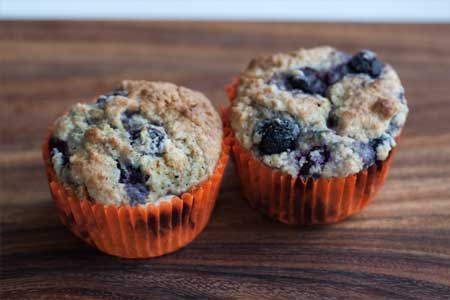 Half Dozen Whole Wheat Blueberry Muffins
Author: Cookie Madness
Prep time: 10 mins
Cook time: 20 mins
Total time: 30 mins
This recipe was originally based on one from Family Fun magazine, but I've changed it up and it's now based on one from King Arthur which is a little bit easier to throw together and very good.
140 grams whole wheat flour or white whole wheat (about 1 to 1 ¼ cups)**
1/3 cup tightly packed light brown sugar (70 grams)
3/8 teaspoon salt
1/2 teaspoon baking powder
1/4 teaspoon baking soda
1/4 teaspoon cinnamon (optional)
1/2 teaspoon vanilla
3 tablespoons vegetable, canola oil or melted coconut oil
3/4 cup buttermilk (or yogurt, but not Greek yogurt)
1/2 cup frozen blueberries (can use more or less), fresh okay
Preheat the oven to 400 degrees and line six muffin cups with paper liners or spray with cooking spray.
Measure out the flour by weighing it, then mix together the flour, sugar, salt, baking powder and baking soda. Add cinnamon if using.
In a mixing bowl, stir or whisk together the vanilla, vegetable oil and buttermilk (or yogurt).
Add the flour mixture to the buttermilk mixture and stir until blended, then stir in the blueberries.
Divide the batter evenly among the muffin cups.
Bake for 20 minutes or until golden brown. Loosen edges and let the muffins cool for about 10 minutes in the pan, then carefully transfer to a wire rack to cool completely.
If you'd rather just use all-purpose flour, omit the whole wheat and use a 140 gram cup of all-purpose. If berries are large and frozen, the muffins might take a little longer to bake.
Recipe by
Cookie Madness
at https://www.cookiemadness.net/2012/02/04/half-dozen-whole-wheat-blueberry-muffins/