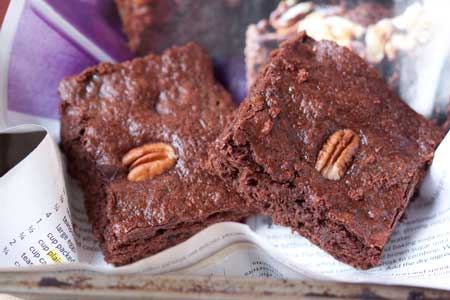 Author: Cookie Madness
Prep time: 10 mins
Cook time: 18 mins
Total time: 28 mins
Chocolate Brownies with Coconut Oil
1/2 cup (3 ounces) extra dark (63%) chocolate chips plus ¼ cup
3 generous tablespoons melted virgin coconut oil, melt and then measure
2 tablespoons unsweetened natural cocoa powder
1 large egg
1 large egg white
1/8 teaspoon salt
1/2 cup tightly packed light brown sugar
1/4 cup coconut flavored yogurt (Yoplait Greek)
1 teaspoon vanilla
1/2 cup whole wheat pastry flour (2 oz or 56 grams)**
1/4 teaspoon baking soda
Some chopped pecans for sprinkling over the top
Preheat oven to 350 degrees F. Line an 8 inch square metal pan with foil and spray foil with cooking spray.
In a small, microwave-safe bowl, combine 1/2 cup of the chocolate chips and the melted coconut oil. Microwave at 50% power, stirring every 30 seconds, until chocolate is melted and smooth. Stir in the cocoa powder and Set aside to cool slightly.
In a medium size mixing bowl, gently whisk together the egg, egg white, salt, brown sugar, coconut yogurt and vanilla – do not overbeat, just whisk enough to blend. Whisk in the melted chocolate/coconut oil mixture.
Mix the pastry flour (make sure it weighs 2 ounces) with the baking soda in a separate cup, then add to the batter and stir just until mixed. Stir in the remaining 1/4 cup chocolate chips.
Pour into the pan and sprinkle with pecans. Bake on center rack for 18 minutes or until brownies appear set but not too dry – it's important not to overbake. A pick inserted should come out with a little brownie on it (though probably not wet batter!). Let cool for about 30 minutes on a rack, then chill for about 2 hours. Lift from pan and cut into squares. Return to room temperature before serving.
**If you have a scale, weigh the pastry flour to make sure it's 4 ounces. Some brands (such as Hodgson Mill) seem to weigh a little more (4.5 oz per cup), while other brands weigh only 4 oz per cup. You only want 4 oz. ** Virgin coconut oil gives these a little more flavor than regular ((LouAna) coconut oil. Also, I measure it after melting for consistency.
Recipe by
Cookie Madness
at https://www.cookiemadness.net/2012/02/coconut-yogurt-brownies/