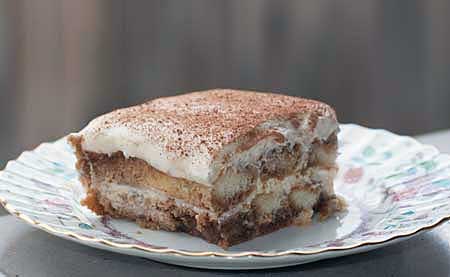 Author: Cookie Madness
Prep time: 20 mins
Cook time: 6 hours
Total time: 6 hours 20 mins
An easy tiramisu recipe made with Kahlua
3 large pasteurized eggs, separated and brought to room temperature
pinch of salt
3/4 cup granulated sugar, divided
1 (8-oz) container Mascarpone cheese
1/2 teaspoon vanilla extract
1/2 cup chilled heavy cream
1 1/2 cups brewed decaf or regular coffee
2 tablespoons Kahlua
24 crisp Italian style ladyfingers
Cocoa powder for dusting top
Have ready an 8 inch square glass dish.
In a mixing bowl, beat egg whites with a pinch of salt just until they hold soft peaks. Add 1/4 cup sugar a little at a time, then continue to beat whites until they just hold stiff peaks.
In a second large bowl, beat together yolks and the remaining 1/2 cup sugar until thick and pale, about 2 minutes. Beat in Mascarpone until just combined. Beat in the vanilla.
In a third bowl, beat cream until it just holds soft peaks. Fold the whipped cream into the cheese mixture gently but thoroughly, then fold in whites.
Stir together coffee and Kahlua in a shallow bowl. Dip 1 ladyfinger in coffee mixture, soaking it about 1 second on each side, and transfer to the prepared dish. Repeat with enough ladyfingers (in my case it took 12 total) to cover the bottom of the dish. Spread half of Mascarpone mixture evenly over ladyfingers. Repeat, making a second layer of ladyfingers and Mascarpone mixture.
Chill for 6 hours or overnight. Dust with cocoa powder before serving.
Recipe by
Cookie Madness
at https://www.cookiemadness.net/2012/03/07/tiramisu/