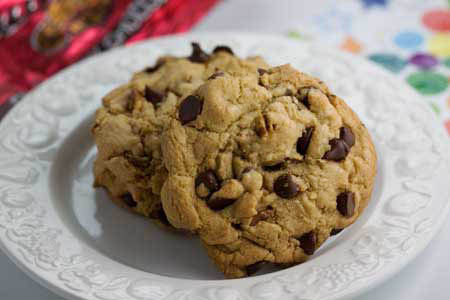 Thick Chocolate Chip Toffee Cookies
Author: Cookie Madness
Prep time: 10 mins
Cook time: 18 mins
Total time: 28 mins
Big, thick, chewy, chocolate chip cookies with chunks of toffee
6 ounces (1 1/2 sticks) unsalted butter
1/2 cup light brown sugar
1/2 cup dark brown sugar
1/3 cup granulated sugar
1 teaspoon vanilla extract
1 large egg
a large egg yolk
2 cups (9 ounces) all-purpose flour
1 tablespoon Belgian Chocolate Toffee flavored non-dairy creamer powder**
1/2 teaspoon baking soda
3/4 teaspoon salt
1 1/2 cups extra dark chocolate chips
1/2 cup toasted and chopped pecans
1/2 cup chopped toffee bar (optional)
In a small saucepan, heat the butter over medium until it melts and starts to turn brown.
While the butter is melting, put all three sugars in a mixing bowl. Pour the hot, melted, browned butter over the sugars and stir until mixed. Let cool slightly, then add the vanilla extract. If mixture is still very warm, let it cool down just a bit, then add the egg and egg yolk. Beat with an electric mixer for about two minutes.
Mix the flour, non-dairy creamer, baking soda and salt in a small bowl.
With a spoon, stir the flour mixture into the sugar mixture. At this point, the dough should still be slightly warm, so let it cool down so that it's not so warm that it will melt the chocolate chips. Add the chocolate chips and nuts and stir well. Chill the dough overnight or until ready to bake ( Note: You can chill it for a shorter time, but the texture of the cookies improves if you chill the dough overnight. I usually bake a couple cookies a few hours later, then bake the rest the next day.
Preheat oven to 350 degrees F. Have ready a baking sheet lined with parchment paper or nonstick foil.
Divide cookies into quarter cup size balls of dough. Arrange 4 inches apart on cookie sheets, press down slightly so that the tops are flat, then bake for 15 to 18 minutes. Cool on baking sheet for about 5 minutes then transfer to wire racks.
**Plain nondairy creamer also works, or use a different flavor.
Recipe by
Cookie Madness
at https://www.cookiemadness.net/2012/03/25/thick-chocolate-chip-toffee-cookies/