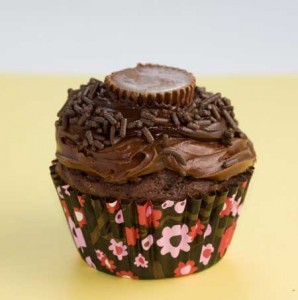 Chocolate Peanut Butter Cup Cupcakes
Author: Cookie Madness
Prep time: 10 mins
Cook time: 20 mins
Total time: 30 mins
An award winning peanut butter filled chocolate cupcake by Dawn T.
1 box devil's food cake mix
1 cup water (or brewed coffee)
5 large eggs
1/2 cup vegetable oil
Filling
1 cup peanut butter
1/2 cup powdered sugar
3 tablespoons half & half
Frosting
4 cups powdered sugar
1/2 cup or less half and half or part cream part milk
2 sticks butter, unsalted
teaspoon salt (omit if using salted butter)
1 tablespoon vanilla
3/4 cup cocoa powder
Topping
2 cups semisweet chocolate chips
1 tablespoons of unsalted butter
1/4 cup heavy cream
24 miniature peanut butter cups and sprinkles
Preheat oven to 350 degrees F. Line 24 muffin cups with paper or foil liners.
Beat together cake mix, water, eggs and oil with an electric mixer. When smooth, divide batter evenly between cupcake pans. Bake on center rack 20 minutes, then remove to rack to cool completely.
Mix together peanut butter, 1/2 cup powdered sugar and 3 tablespoons half and half. Using a knife, cut a hole in the cupcake and fill it with about a tablespoon of the peanut butter mixture.
For frosting, beat together the 2 sticks of butter, 4 cups powdered sugar, vanilla and cocoa powder. Add enough half and half to make a creamy consistency, beating all the while. Frost each cupcake generously or pipe on a big dollop. At this point, you might want to chill the frosting so it's nice and firm when the warm topping goes on.
For topping, melt the chips, butter and cream together in a microwave-safe bowl using 50% power and stirring every 30 seconds or melt in a double boiler. Spoon a little topping in the center of each cupcake to make a circle or drizzle it. Put sprinkles around the bit of topping. Top center of each cupcake with a peanut butter cup.
Recipe by
Cookie Madness
at https://www.cookiemadness.net/2012/04/chocolate-peanut-butter-cup-cupcakes/