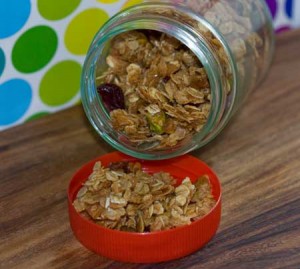 Eleven Madison Park Style Granola
Author: Cookie Madness
Prep time: 10 mins
Cook time: 28 mins
Total time: 38 mins
Granola similar to the granola served at Eleven Madison Park
2 3/4 cups rolled oats
1 cup unsweetened coconut flakes
1 cup unsalted pistachios
1/3 cup unsalted pepitas
1/2 cup walnuts or other nut
1/2 to 3/4 teaspoons fine sea salt (original calls for 1 tablespoon coarse Kosher)
1/2 cup packed light brown sugar
1/3 cup maple syrup
1/3 cup grapeseed, extra virgin olive or vegetable oil
1/2 teaspoon vanilla extract
1/2 cup dried sour cherries
Preheat the oven to 300 degrees F. Line 1 large (13x18) baking sheet or 2 smaller (anything less than 13x18) with parchment paper or nonstick foil.
Toss the oats, coconut, pistachios, pepitas, other nuts and salt in a large bowl. Warm the brown sugar, maple syrup and oil in a small saucepan over low heat, stirring, until the sugar dissolves. Alternatively, you can just heat in a microwave-safe measuring cup for about 30 seconds and stir well. Add the vanilla. Fold the sugar mixture into the oat mixture and stir to coat.
Spread the oat mixture on the prepared baking sheets (or sheet) and bake until dry and lightly golden, stirring every 15 minutes. Mine was divided into two sheets and done in 28 minutes, but if you make it on one large sheet, you'll probably need to bake for the original 35 to 40. Remove from the oven. Break it up a bit, leaving clumps, and then toss with the dried sour cherries. Let cool to room temperature.
Recipe by
Cookie Madness
at https://www.cookiemadness.net/2012/04/eleven-madison-park-style-granola/