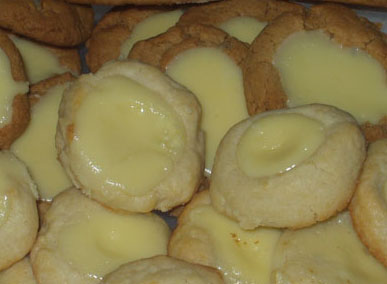 Cheesecake Filled Thumbprint Cookies
Author: Cookie Madness
Prep time: 10 mins
Cook time: 24 mins
Total time: 34 mins
Rich thumbprint cookies with a cheesecake filling in the center.
Filling:
4 ounces cream cheese, softened
1/4 cup sugar
1/8 teaspoon salt
1 egg yolk
1 1/2 tsp. sour cream
1/4 teaspoon vanilla
Cookies:
1 cup butter, softened
1/4 cup sugar
1 egg yolk
1/4 teaspoon salt
2 cups flour
Make filling first. Beat together cream cheese, sugar and salt until fluffy and smooth. Stir in egg yolk, sour cream and vanilla. Place in refrigerator for 30 minutes.
Preheat oven to 350 degrees F. Line 2 baking sheets with parchment.
Beat together butter, sugar, egg yolk and salt. Stir in flour (do not over beat) and mix until dough forms. Form dough into 24 to 30 balls and set on cookie sheets. Wet finger (or use handle of a spoon) and make a deep indentation - do now worry about how wide it is yet. Cookies will spread anyway.
Bake for 10 minutes. Remove from oven and press in middles to re-make indentations. Turn cookies sheets and bake cookies another 5 to 7 minutes or until edges start to brown a bit. Remove from oven and fill indentations with cream cheese filling, using a small teaspoon. Return cookies to oven and bake for another 7 minutes. Cool completely and chill.
Recipe by
Cookie Madness
at https://www.cookiemadness.net/2005/12/cheesecake-cookies/