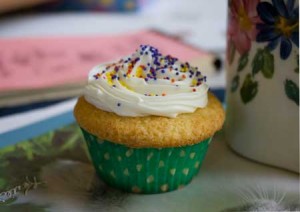 Author: Cookie Madness
Prep time: 10 mins
Cook time: 25 mins
Total time: 35 mins
The best scratch yellow cupcakes.
4 large eggs
2 large egg yolks
2 teaspoons vanilla extract
1 ¼ cups buttermilk or regular milk mixed with lemon juice**
3 cups (12 ounces) cake flour
2 cups granulated sugar
4 1/2 teaspoons baking powder
1/2 teaspoon salt
2 sticks (8 ounces) unsalted butter, at room temperature
Preheat the oven to 350° F. Line about 30 muffin cups with paper liners.
Whisk the eggs, yolks, vanilla and ¼ cup of the milk together in a small bowl.
In the bowl of a stand mixer fitted with a paddle, combine the flour, sugar, baking powder and salt, and mix on low for about 30 seconds. Add the butter and the remaining 1 cup of milk to the flour mixture and with the mixer on low, blend together. Raise the mixer speed to medium and beat until light and fluffy, about 2 minutes.
With the mixer still on medium, add the egg mixture in 3 additions, scraping down the side of the bowl and mixing only until thoroughly incorporated. Divide the batter among the cups filling them about 2/3 of the way full. Make sure not to use too much or you'll get big rims.
Bake for 18-25 minutes or until cupcakes are brown around the edges and spring back when touched.
If using milk and lemon juice, use 1 cup plus 3 tablespoons of milk and 1 tablespoon of lemon juice. Make sure all ingredients are at room temperature. Also, the yield is approximate. Some people get over 30 and some people get fewer. It really depends on what size cupcake cup you use and how much batter you actually put in each cup.
Recipe by
Cookie Madness
at https://www.cookiemadness.net/2012/04/the-best-yellow-cupcakes/