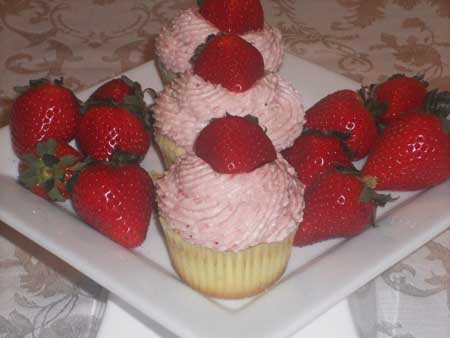 Author: Cookie Madness and Mela J.
Prep time: 10 mins
Total time: 10 mins
Strawberry frosting recipe from Mela.
1/2 cup (4 ounces) unsalted butter, softened
8 ounces cream cheese, from the refrigerator
2-1/2 to 3 cups powdered sugar
3 large strawberries, pureed
2-3 tsp. strawberry jam
pinch of salt, optional
Cream butter and cream cheese for about 2 minutes.
Add powdered sugar 1 cup at a time. Add in jam and slowly add pureed strawberry until you get the desired consistency.
Chill before frosting your cupcakes.
I put the frosting in a pastry bag while it's soft, then chill for about an hour before frosting.
Recipe by
Cookie Madness
at https://www.cookiemadness.net/2012/04/melas-strawberry-frosting/