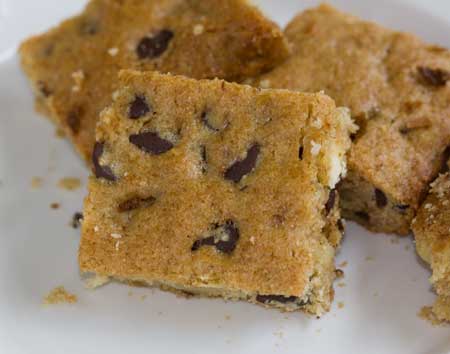 Chocolate Chip Walnut Bars
Author: Cookie Madness
Prep time: 10 mins
Cook time: 18 mins
Total time: 28 mins
A slightly more nutritious version of blondies made with honey, whole wheat flour and walnuts.
1/3 cup (1.5 ounces) whole wheat flour
1/3 cup (1.5 ounces) all-purpose flour
1/4 cup packed light brown sugar
1/2 teaspoon baking powder
1/4 teaspoon salt
1 large egg
1/4 cup extra light olive oil (or whatever oil you have)
2 tablespoons honey
1/2 teaspoon vanilla extract
1/2 cup toasted and chopped walnuts
1/2 cup extra dark chocolate chips (or more)
1/4 cup white chips (or more)
Preheat oven to 350 degrees F. Line an 8 inch metal pan with nonstick foil.
Mix both flours, the brown sugar, baking powder and salt together in a mixing bowl and set aside.
In a second bowl, lightly whish the egg, oil, honey and vanilla together. Add the egg mixture to the flour mixture and stir just until blended. Stir in the nuts, chocolate chips and white chips. Pour into the pan and spread to the edges
Bake on center rack for 18 to 20 minutes or until brown. Let cool completely. Cut into 16 squares
For best results, make sure not to use too much flour. Weigh it if you have a scale, or sift it if you don't. Also, when you stir the chips into the batter it will may seem like there are too many. They tend to disperse when baked, so don't worry. You may even want more chips.
Recipe by
Cookie Madness
at https://www.cookiemadness.net/2012/04/walnut-chocolate-white-chip-bars/