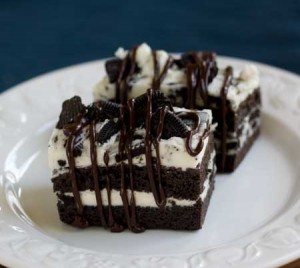 Author: Cookie Madness
Prep time: 20 mins
Cook time: 25 mins
Total time: 45 mins
Homemade version of some Oreo Stack Brownies I saw at Starbucks.
8 tablespoons unsalted butter, cut into chunks
1 cup granulated sugar
1/3 cup unsweetened Dutch processed cocoa powder
1/4 teaspoon salt
3/4 teaspoon vanilla extract
2 cold large eggs
1/2 cup (2.3 ounces) all-purpose flour
1/4 teaspoon baking powder
Filling/Topping
12 tablespoons unsalted butter, softened
3 cups sifted confectioners' sugar****
1 teaspoon vanilla
1/4 very scant teaspoon salt
6 tablespoons whipping cream
10 Double Stuff Oreos (use more or less as desired)
Ganache
1/2 cup extra dark or semisweet chocolate chips
1/4 cup whipping cream
Preheat oven to 350 degrees F. Line an 8 inch square metal pan with nonstick foil
Melt the butter in a large (3 quart) nonstick saucepan. Stir in the sugar and the cocoa powder. Reduce heat to low and stir gently for about 30 seconds to warm the sugar. Turn off the heat and let the sugar mixture sit for 5 minutes. Stir in the salt and vanilla.
Add the cold eggs, whisking or stirring just until mixed and being careful not to overbeat them, then stir in the baking powder and flour. Pour into the pan and bake for 25 minutes or until brownies appear set. Let cool completely in the pan. When cool, transfer to the refrigerator.
Make the filling/frosting. Beat the butter until creamy. Gradually add confectioners' sugar, scraping sides and beating until smooth. Beat in vanilla and salt. Slowly beat in the whipping cream beating and scraping until you have a smooth vanilla frosting. On a cutting board, chop 7 of the Double Stuff and stir them into the frosting, "stuff" and all.
Lift the cold brownie from the pan and peel away the foil. With a large knife, slice the brownie in half to make two 4x8 inch rectangles -- it's easier to work with this way. Working one rectangle at a time, cut each rectangle through the center to make two layers (as you'd do for a cake). Sandwich about half cup of icing into the center of each rectangle, pressing down to remove any air bubbles. Spread tops of each rectangle with more icing. Wrap gently in plastic wrap and freeze until solid. If you're going to keep them frozen for longer than an hour, re-wrap tightly once frozen and place in a storage bag.
Remove frozen brownies stacks from the freezer and trim the edges with a chef's knife so that you have two neat rectangles.
In a microwave safe bowl or large Pyrex measuring cup, combine chocolate chips and cream. Microwave at 50% power for 30 seconds. Stir until chocolate is melted and mixture is smooth, then transfer to a heavy duty zipper bag. Cut a tiny hole in the corner of the bag and squeeze lines of ganache over the cold bars. Break up remaining Double Stuff and press them into the top for garnish. Return to the refrigerator to set the ganache. Store in the refrigerator.
Remove from the refrigerator about ½ hour before serving. The bars can sit out, but they'll be slightly softer.
***Make sure to sift the powdered sugar BEFORE measuring. And taste as you go, because you may want a less sweet icing.
Recipe by
Cookie Madness
at https://www.cookiemadness.net/2012/04/oreo-stack-brownies/