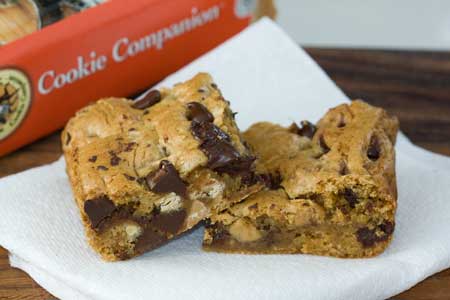 Chocolate & Peanut Butter Chip Bars
Author: Cookie Madness
Prep time: 10 mins
Cook time: 25 mins
Total time: 35 mins
A good bar cookie for bake sales and group events, adapted from King Arthur Flour Co.
2 3/4 cups (11.5 ounces) unbleached all-purpose flour
2 1/2 teaspoons baking powder
1/2 teaspoon salt
2/3 cup unsalted butter, melted
2 1/4 cups light brown sugar
3 large eggs
1 teaspoon vanilla extract
1 cup chocolate chips
A cup peanut butter chips
1 cup toasted and chopped walnuts
Preheat the oven to 350 degrees F. Spray 10x15 inch jelly roll pan with baking spray. For thicker bars, you may use a 9x13 inch pan, but you'll probably have to adjust the baking time.
Mix the flour, baking powder and salt together and set aside.
In another large bowl, combine the hot melted butter and brown sugar, stirring until smooth. Allow the mixture to cool slightly. Add the eggs one at a time, beating well after each addition. Stir in the flour mixture. Make sure the mixture is cool (you don't want to melt the chips too quickly!) then add thechips and nuts. Spread the batter into the prepared pan.
Bake the bars for 24 to 26 minutes, until their top is shiny and golden. Don't overbake (I slightly underbaked mine) or the bars will be dry; a cake tester inserted into the center will not come out clean. Remove the bars from the oven and cool to room temperature before cutting.
I like to chill them for a while before cutting.
Recipe by
Cookie Madness
at https://www.cookiemadness.net/2012/05/chocolate-peanut-butter-chip-bars/