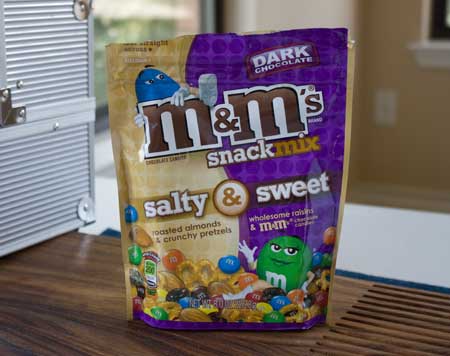 Fuzz's Candy Mix Up Cookies
Author: Cookie Madness
Cookie recipe using M&Ms new mix of pretzels, almonds and candy.
1 cup (4.5 ounces) all-purpose flour
1 1/2 teaspoon non-aluminum type baking powder
1/4 teaspoon salt
4 tablespoons unsalted butter, softened
4 tablespoons shortening
1/2 cup dark brown or light brown sugar
1/2 cup granulated sugar
1 large egg
3/4 teaspoon vanilla extract
1 cup dark chocolate chips
1/2 cup (or more!) M&Ms mix-ups
Preheat oven to 350 degrees F. Line a cookie sheet with nonstick foil.
Mix the flour, baking powder and salt together in a bowl.
In a mixing bowl, using a handheld electric mixer, beat the butter, shortening and sugar until creamy. Beat in the egg and vanilla until mixed. By hand or using lowest speed of an electric mixer, stir in the flour mixture.
Stir in the chocolate chips and the M&Ms.
Drop the dough by heaping teaspoons or level tablespoons and bake for 9-12 minutes (go by appearance) or until the cookies appear set. Let cool on sheets for about 3 minutes, then transfer to a wire rack to cool completely.
The pretzels in the M&M mix are small, but we still broke them up a little bit before using. Also, when we opened the bag we noticed the mix was in layers, with the pretzels on top. You might want to mix it up a bit before measuring out your big handful or 1/2 cup.
Recipe by
Cookie Madness
at https://www.cookiemadness.net/2012/05/sweet-salty-snack-mix-cookies/