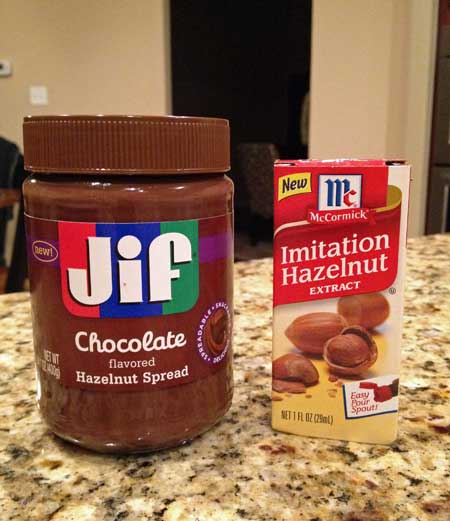 Easy Chocolate Hazelnut Swirl Brownies
Author: Cookie Madness
Total time: 4 hours 10 mins
Brownie made with cream cheese and JIF's new chocolate hazelnut spread .
1 pouch brownie mix (Betty Crocker) for an 8 inch square pan
Oil, egg and water as indicated on package
8 ounces cream cheese, softened
1/4 cup granulated sugar
1 large egg, at room temperature
1 teaspoon vanilla extract
3 tablespoons of new Jif chocolate hazelnut spread (or another brand)
1/8 teaspoon hazelnut extract (optional)
Preheat the oven to 350 degrees F. Line an 8 inch square metal pan with foil and spray foil with cooking spray.
Prepare brownie batter as directed on package and spread batter in the pan.
In a mixing bowl, beat the cream cheese and sugar until smooth. Beat in the egg and vanilla. Put about 2/3 of the cream cheese mixture over the brownie batter. To the remaining cream cheese mixture, add the hazelnut spread, remaining cream and hazelnut extract (if using). Drop spoonfuls of hazelnut mixture over the cream cheese mixture and marble gently with a knife.
Bake on center rack of the oven for about 28 to 30 minutes. Mine were still quite jiggly when I took them out, but like most cheesecakes, they set as they cool. Remove from the oven and cool completely on a cooling rack. Refrigerate for at least 3 hours (I chilled mine overnight).
When ready to serve, lift the bars out of the pan by lifting up the foil. Cut into 12 or 16 squares, depending on the occasion.
Don't skip the chill time!
Recipe by
Cookie Madness
at https://www.cookiemadness.net/2012/05/easy-chocolate-hazelnut-swirl-brownies/