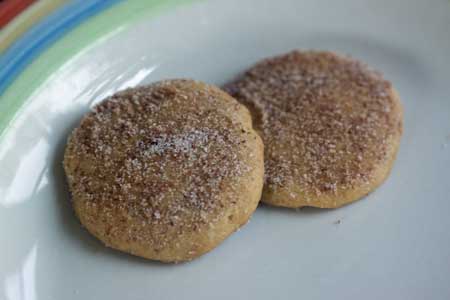 Author: Cookie Madness
Cookies rolled in sugar, chocolate and cinnamon
2 sticks (8 ounces) unsalted butter, softened
3/4 teaspoon salt (omit if using salted butter)
1/2 cup powdered sugar
2 tablespoons milk
1 1/2 teaspoons pure vanilla extract or Mexican vanilla
1/2 teaspoon ground cinnamon
1 teaspoon baking powder
1 1/2 cups to 1 3/4 cups (7.9 ounces) all-purpose flour (see note)
Coating
1/2 cup granulated sugar
1/2 ounce semisweet chocolate, grated
1/4 teaspoon cinnamon
In a large mixing bowl using an electric mixer, beat the butter until creamy. Beat in the salt, powdered sugar, milk, vanilla and cinnamon, scraping the sides of the bowl often, until mixture is smooth. Beat in the baking powder. When it's thoroughly mixed in, add the flour and stir by hand until it's well mixed. The batter should be soft, yet sturdy enough to shape.
With a level tablespoon, scoop up the dough and shape into 24 balls. Place the balls on a plate and chill for 2 hours or if baking ahead, chill until very firm, then put in a heavy duty zipper bag and freeze.
When ready to bake, bring the dough balls to room temperature.
Preheat the oven to 325 degrees F.
Arrange the dough balls, spacing about 2 1/2 inches apart on ungreased baking sheets, then press the balls into 2 inch rounds. Bake 20 to 25 minutes or until the edges are golden brown.
Meanwhile, mix the sugar, chocolate and cinnamon in a small bowl.
Remove warm cookies from baking sheets and let cool for about 3 minutes on a wire rack set over a sheet of foil. Spoon coating over the cookies, letting it fall down onto the foil. Scoop fallen coating off the foil and use it to coat the bottom of the cookies. Let cool completely before serving.
To grate the chocolate, I used a cold bar of semisweet chocolate and a Microplane zester. If you don't have a scale, start with 1 1/2 cups of flour and if the dough is too sticky, add another 1/4 cup. If you have a scale you should be fine weighing out 1 3/4 cup (7.9 ounces) I had leftover sugar mixture, so I cut the original amount in half.
Recipe by
Cookie Madness
at https://www.cookiemadness.net/2012/05/22/mexican-cookies/