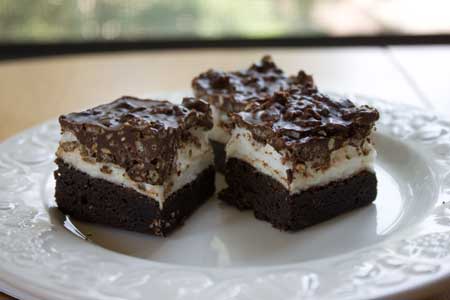 Marshmallow Krispy Topped Brownies
Author: Cookie Madness
Prep time: 10 mins
Cook time: 25 mins
Total time: 35 mins
Brownies topped with marshmallows and Rice Krispies in chocolate.
8 tablespoons unsalted butter
1 cup granulated sugar
1/3 cup unsweetened cocoa powder (half Dutch, half natural)
1/4 teaspoon salt
3/4 teaspoon vanilla extract
2 cold large eggs
1/2 cup (2.3 ounces) all-purpose flour
1/4 teaspoon baking powder
2 cups mini marshmallows
1 1/2 tablespoons unsalted butter
2/3 cup dark or semisweet chocolate chips
1/2 cup creamy peanut butter or try hazelnut spread!
1 cup Rice Krispies cereal
Preheat oven to 350°F. Line an 8 inch square metal pan with nonstick foil.
Melt the butter in a 3 quart nonstick saucepan. Stir in the sugar and the cocoa powder. Reduce heat to low and stir gently for about 30 seconds to warm the sugar. Turn off the heat and let the sugar mixture sit for 5 minutes. Stir in the salt and vanilla.
Add the cold eggs, whisking or stirring just until mixed, then mix the flour and baking powder together in a little cup and stir them into the batter.
Spread the batter in the pan and bake for 23 minutes. Quickly scatter marshmallows over the top and bake another 2 minutes to soften marshmallows. Tap them down a little with a spatula, then let cool on a wire rack.
Prepare topping. In your 3 quart saucepan, melt the butter over medium heat. Reduce heat to low and add the chocolate chips, stirring until melted and smooth. Stir in the peanut butter. Add cereal and stir until cereal is coated. Drop spoonfuls of cereal mixture over marshmallow layer, spreading as evenly as possible. Things will look gooey at this point, so don't even think about cutting.
Put the brownies in the refrigerator for a few hours to chill. Lift from pan, trim the edges, then cut into 4 big squares. Cut those squares into smaller square to make 16.
Cook time includes chill time. Make sure to chill the brownies before cutting.
Recipe by
Cookie Madness
at https://www.cookiemadness.net/2012/05/25/marshmallow-and-rice-krispies-topped-brownies/