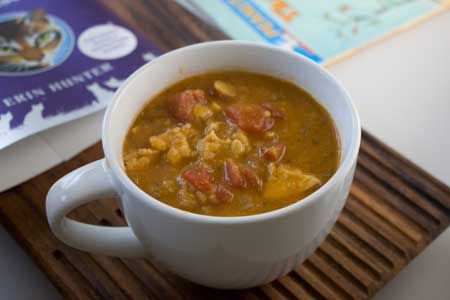 Author: Cookie Madness
Prep time: 10 mins
Cook time: 60 mins
Total time: 1 hour 10 mins
An easy tortilla soup recipe and a great way to use up leftover roast chicken.
2 tablespoons light olive oil or vegetable oil
1 cup chopped onions
4 (3 ounces) corn tortillas, chopped (about 3/4 cup chopped)
1 tablespoon finely chopped garlic
14 ounce can of diced tomatoes, drained
3 cups of reduced sodium chicken broth, plus more if desired
2 tablespoons carrot baby food (optional)
1 tablespoon ground cumin
1 1/2 teaspoons mild chili powder blend such as Gebhardt or Bolner's Fiesta
1 teaspoon honey
1 bay leaf
1/4 teaspoon cayenne (optional -- I never use)
1 1/2 cups shredded chicken breast (use more or less)
Black pepper and salt to taste (if necessary)
Garnish: avocados, shredded cheese, chopped tomatoes
In a Dutch oven or large pot, heat the oil over medium for about 40 seconds. Add the onions and tortillas and sauté for 3-5 minutes.
Add the garlic and sauté for another 2 minutes, scraping bottom of pot with a spoon.
Add the tomatoes and 1 cup of the water or broth. Scrape bottom of pot. If using soup base, add the soup base and stir until it is dissolved. Stir in remaining 2 cups water (or broth).
Continue heating over medium or just below a boil, then add the carrot baby food, cumin, chili powder, honey and the bay leaf. Increase heat slightly and bring to a boil, then reduce heat to a simmer. Cover and let simmer for 30 minutes. Uncover and simmer, stirring often, for about 20-30 minutes or until soup is thick. Add salt and black pepper to taste. About 5 minutes before serving, add the chicken. Alternatively, you can put a big stack of chicken in a bowl, top it with avocados and cheese, then pour the soup around it. Remove the by leaf before serving. Makes about 5 cups.
We don't add any hot peppers, but if you like fiery spice feel free to add a dash of cayenne or chipotle powder or any type of hot pepper you like.
If you're serving this for dinner, you'll get enough to feed 2 hungry adults and 1 kid. For lunch or as a side, you could probably serve 4 or 5. If soup is too thick after the last long simmer, thin it with a little extra broth.
Recipe by
Cookie Madness
at https://www.cookiemadness.net/2012/05/tortilla-soup/