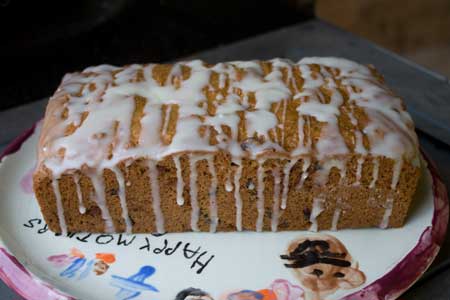 Sour Cream Chocolate & Butterscotch Chip Cake
Author: Cookie Madness
Prep time: 10 mins
Cook time: 45 mins
Total time: 55 mins
An easy chocolate chip cake made with a cup of sour cream.
1 1/2 cups (6. 8 ounces) all-purpose flour
3/4 teaspoon baking powder
3/4 teaspoon baking soda
5 tablespoons unsalted butter, melted and cooled
2/3 cup granulated sugar
1 teaspoon of vanillla
1 cup sour cream
A large egg
1/4 teaspoon plus a pinch of salt
1/3 cup semi-sweet chocolate chips
1/3 cup butterscotch chips
Vanilla Icing
1 tablespoon unsalted butter
1/2 cup confectioners' sugar
1-2 tablespoons milk
1/4 teaspoon vanilla extract
Preheat the oven to 350 degrees F. Grease and flour a 9x5 inch loaf pan.
Mix the flour, baking powder and baking soda together in a bowl and set aside.
In a large mixing bowl, stir together the cooled butter, sugar, vanilla, sour cream, egg and salt. Add the flour mixture to the sour cream mixture and stir until blended (batter will be thick), then stir in the chocolate chips.
Transfer the batter to the loaf pan and bake for 45 minutes. Let cool for about 15 minutes in the pan, then carefully turn from pan and let cool on a wire rack.
Make the icing. Melt the butter in a microwave-safe bowl or a 2 cup Pyrex measuring cup.
Add the sugar and stir to coat it with butter – it will be thick and pasty. Slowly add the milk about 1/2 tablespoon at a time, mixing well and adding more until you get the consistency you like. Stir in the vanilla. Drizzle over the cooled cake.
This would also be good for breakfast. Slices neatly.
Recipe by
Cookie Madness
at https://www.cookiemadness.net/2012/05/sour-cream-chocolate-butterscotch-chip-cake/