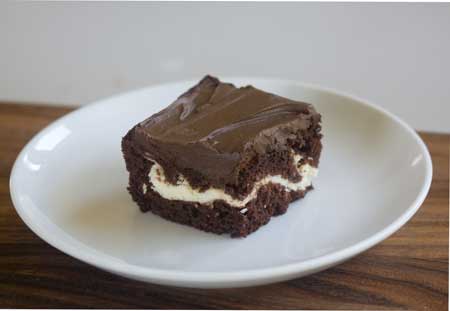 Author: Cookie Madness
Chocolate cake with a cream cheese filling
Filling:
8 ounce cream cheese, softened
2 tablespoons butter, softened
1/4 cup granulated sugar
1 tablespoon cornstarch
2 tablespoons milk
1/2 teaspoon vanilla extract
1 large egg
Cake:
1 box chocolate cake mix plus eggs, oil and water as directed on the box
Frosting:
6 tablespoons of unsalted butter, softened
1 tablespoon of sour cream
2 1/4 cups confectioners' sugar
1/2 cup natural style cocoa powder
1 tiny pinch of salt
3/4 teaspoon vanilla extract
3 to 6 tablespoons of heavy cream plus more as needed.
Preheat oven to 350 degrees F. and spray a 9x13 inch metal pan with flour-added baking spray.
Make the white filling first. In a mixing bowl, beat together the cream cheese, butter, sugar, cornstarch, milk and vanilla until creamy and smooth. Add the egg and beat just until mixed. Set aside.
Prepare the cake mix using the directions on the side of the cake mix box. Pour half of the cake mix into the pan, spoon the white mixture as evenly as possible over the top, the pour the rest of the cake batter over the white. Bake on center rack for 30 to 33 minutes (or time given on the box) or until cake appears set. Remove from the oven and let cool completely.
Make the chocolate frosting. In a large mixing bowl, mix the butter, sour cream sugar, cocoa, salt and 2 tablespoons of the cream as well as you can, then beat with a hand-held mixer until pasty and thick. Continue adding remaining cream until you get a nice, smooth, spreading consistency. Spread over the cake and chill.
Recipe by
Cookie Madness
at https://www.cookiemadness.net/2012/06/double-fudge-fancifill-cake/