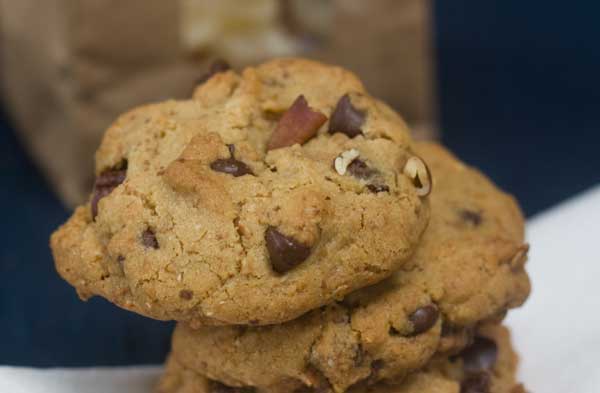 Author: Cookie Madness
Thick, hearty, cookies made with ground granola. Pack them with chunks of chocolate or chocolate chips.
1 cup (4 ounces) granola
12 tablespoons unsalted butter, room temperature
1/2 cup packed dark brown sugar
1/2 cup granulated sugar
1 large egg
1 teaspoon vanilla extract
2 cups (9 ounces) all-purpose flour
1/2 teaspoon baking soda
3/4 teaspoon salt
1 1/2 to 2 cups extra dark chocolate chips or 6 to 9 ounces chocolate chunks**
1/2 cup toasted and chopped pecans.
Preheat the oven to 375 degrees F.
In a food processor, grind the granola as fine as you can.
In a mixing bowl, beat the butter and both sugars until creamy using an electric mixer. Add the egg and beat just until it is incorporated. Beat in the vanilla.
In a separate bowl mix your flour, baking soda and salt. Stir into the sugar mixture gradually. When blended, stir in the ground granola, chocolate chips and nuts.
Using a generously heaping tablespoon, shape dough into large balls about 2 inches in diameter Arrange on an ungreased baking sheet spacing about 3 inches apart. Press down slightly so that the tops are flat.
Bake at 375 for 12 minutes (check at 10) or until edges are lightly browned and cookies appear done. Let cool on baking sheet for about 3 minutes, then transfer to a wire rack to cool completely.
Makes about 16
For the chocolate chunks, take your favorite chocolate bar and cut it into chunks.
Recipe by
Cookie Madness
at https://www.cookiemadness.net/2012/06/thick-crumbly-chocolate-chip-cookies-with-ground-granola/