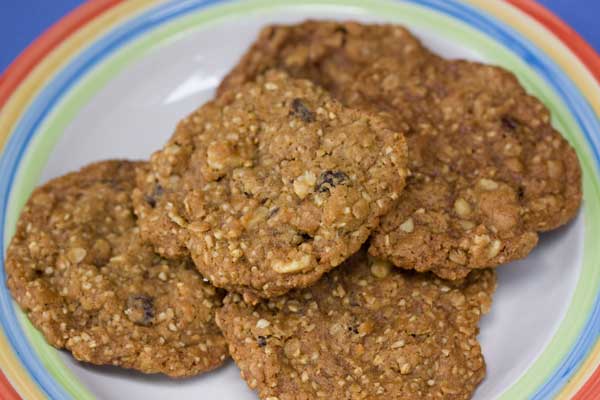 Steel Cut Oatmeal Walnut Cookies
Author: Cookie Madness
Prep time: 10 mins
Cook time: 15 mins
Total time: 25 mins
Large oatmeal cookies made with steel cut oats. For a half batch, follow directions below but use 2 tablespoons of lightly beaten egg
1 1/2 cups (6.8 ounces) organic all-purpose flour (King Arthur)
1 teaspoon baking soda
1 scant teaspoon salt**
3/4 teaspoon cinnamon
8 ounces (2 sticks) unsalted butter, softened
3/4 cup natural granulated sugar (evaporated cane juice)
1/2 cup plus 1 tablespoon tightly packed LIGHT brown sugar
1/2 cup tightly packed DARK brown sugar
1 large egg
1 teaspoon vanilla extract
2 cups old fashioned oats
2/3 cup Bob's Red Mill steel cut oats
2/3 cup dark raisins
1 cup toasted and coarsely chopped walnuts
Combine the flour, baking soda, salt and cinnamon and set aside.
In a large mixing bowl, beat the butter until creamy. Add all sugars and mix just until blended, then add the egg and vanilla and mix until incorporated. Add the flour mixture by hand or using the lowest speed of a stand mixer. Stir in the oats, raisins and nuts.
Using a generously heaping tablespoon, scoop up about 20 to 22 large balls of dough and arrange them on a cookie sheet or two plates side by side – no need to worry about spacing. Cover with plastic wrap and chill for a few hours or overnight. The texture improves if you chill the cookies longer.
Preheat the oven to 350 degrees F. Line two baking pans with parchment paper. Meanwhile, let the dough come to room temperature for about 20 minutes.
Arrange the dough balls about 3 ½ inches apart on baking sheets and press tops down slightly. Bake one sheet at a time for 12 to 15 minutes or until edges are brown and centers appear set. Let cool on the baking sheets for 5 minutes, then carefully transfer to wire racks to cool.
**Make sure to omit the salt if you are using salted butter

Also, since these are fairly large cookies, you might want to bake one or two cookies as "test" cookies just to get the timing down. Mine took 15 minutes, but this will vary with ovens and various sized cookies.
Recipe by
Cookie Madness
at https://www.cookiemadness.net/2012/06/steel-cut-oatmeal-walnut-cookies/