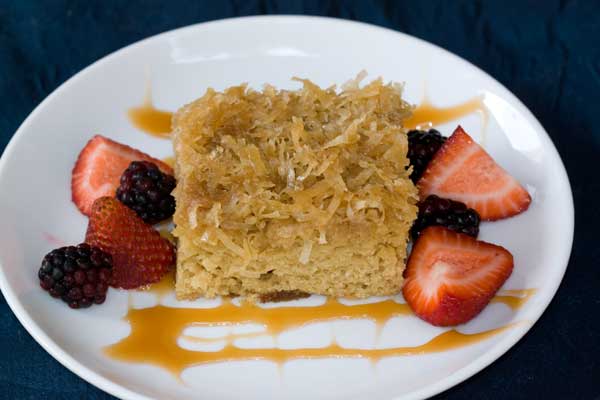 Sybil Hancock's Upside Down Coconut Cake
Author: Cookie Madness
An old fashioned cake that is flipped, so that the bottom become the topping.
1 cup light brown sugar
1 large egg
1 teaspoon baking soda
1 cup room temperature sour cream, not light
1/4 teaspoon salt
1 teaspoon vanilla
1 1/2 cups cake flour, sifted
1 teaspoon baking powder
Topping:
2 tablespoons unsalted butter, softened
1/2 cup light brown sugar
1 cup sweetened flaked or shredded coconut
Preheat the oven to 325 degrees F. Line an 8 inch metal cake pan with nonstick foil.
In a large mixing bowl, stir together the brown sugar and egg.
Dissolve the baking soda in the sour cream, then add that to the egg mixture. Beat with a hand-held mixer until well mixed. Beat in the salt and vanilla.
Sift together the flour and baking powder, then add to the batter in three parts, stirring until incorporated.
In a separate bowl, stir together the butter and brown sugar until thoroughly mixed, then add the coconut and stir until evenly incorporated. Spread the coconut mixture over the bottom of the pan.
Pour the batter over the coconut, spreading gently to the edges. Bake at 325F for 40 minutes or until cake is brown, set, and a toothpick inserted in the center comes out clean. Let cake cool completely, then carefully invert onto a serving tray. Peel away the foil. Serve with berries and whipped cream.
I used angel flake type coconut.
Recipe by
Cookie Madness
at https://www.cookiemadness.net/2012/06/coconut-upside-down-cake/