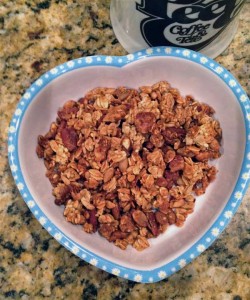 Applesauce & Agave Granola
Author: Cookie Madness
Prep time: 10 mins
Cook time: 35 mins
Total time: 45 mins
A low oil granola recipe made with applesauce and spices.
6 tablespoons applesauce, unsweetened
6 tablespoons brown sugar
1 tablespoon coconut oil
2 tablespoons plus 2 teaspoons agave syrup or corn syrup or rice syrup
2 tablespoons honey
1 teaspoon cinnamon
1/2 teaspoon ginger
2 1/4 cups old fashioned oats
1 cup nuts, almonds, pecans or anything you like
1/3 cup sunflower seeds
2 tablespoons sesame seeds
1/2 teaspoon salt
Preheat oven to 300 degrees F. Line a large rimmed baking sheet with nonstick foil or parchment paper.
In a large bowl, mix together applesauce, brown sugar, coconut oil, syrup, honey, cinnamon and ginger.
Add the oats, nuts, sunflower seeds and sesame seeds.
Sprinkle the salt over the mixture, then toss everything together until oats and nuts are thoroughly coated.
Spread the mixture on the prepared baking sheet and bake for about 40 minutes, stirring every 10-15 minutes, until the granola is a golden brown (be careful because it starts to brown quickly during the last 10 minutes). Remove from oven and let cool completely. It should crisp as it cools.
You can omit the oat bran and use 2 1/2 cups oats
Recipe by
Cookie Madness
at https://www.cookiemadness.net/2012/06/21/applesauce-granola/